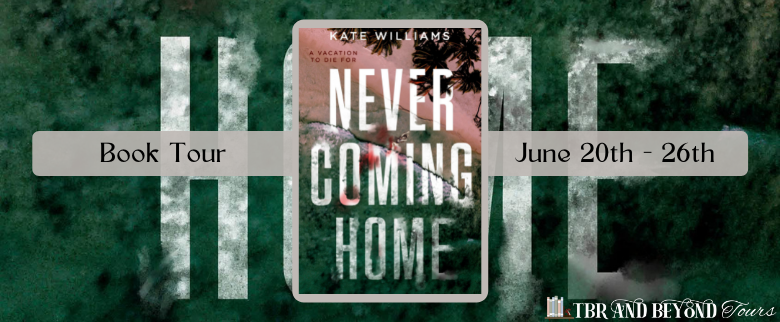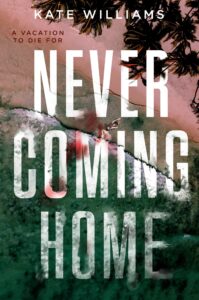 Never Coming Home by Kate Williams
Genre: Young Adult Thriller
Publishing Date: June 21, 2022
Synopsis:
The beach read you have been dying for! When ten of America's hottest teenage influencers are invited to an exclusive island resort, things are sure to get wild. But murder isn't what anyone expected. Will anyone survive?
Everyone knows Unknown Island—it's the world's most exclusive destination. Think white-sand beaches, turquoise seas, and luxury accommodations. Plus, it's invite-only, no one over twenty-one allowed, and it's absolutely free. Who wouldn't want to go?
After launching with a showstopping viral marketing campaign, the whole world is watching as the mysterious resort opens its doors to the First Ten, the ten elite influencers specifically chosen to be the first to experience everything Unknown Island has to offer. You know them. There's the gamer, the beauty blogger, the rich girl, the superstar, the junior politician, the environmentalist, the DJ, the CEO, the chef, and the athlete.
What they don't know is that they weren't invited to Unknown Island for their following—they were invited for their secrets. Everyone is hiding a deadly one, and it looks like someone's decided it's payback time. Unknown Island isn't a vacation, it's a trap. And it's beginning to look like the First Ten—no matter how influential—are never coming home.

Before I begin my review I quickly have to thank TBR and Beyond Tours (you can click HERE to see the tour schedule) and the publisher for sending me an eArc of the book to read.
You might recognize Kate William's name and that's because she is the author of The Babysitter's Coven series. This is Kate's fourth book. I have yet to read that series and after reading this I am kind of curious about that series now. I just might have to pick it up to read. Would it be something I would enjoy?
This was a roller coaster of a read. I probably could have read it in one sitting but I had to stop and break it up into two days just because I know how my brain works and if I had read it in one sitting I would have been up all night.
When I first got the email about this tour I was intrigued, Ten Influencers, One Island, One Week, and someone bent on revenge, yes sign me up please.
I should mention that there are several trigger warnings in the book such as death, gore, and suicide and a few others.
This island is called Unknown Island set somewhere remote in the South Pacific and there is only one way in and one way out. The island appears to be located in a beautiful spot but it's not all it's cracked up to be. Looks can be deceiving. Once these ten influencers arrive they discover that this is nothing like they were told it would be.
Someone launched a marketing campaign for Unknow Island that went viral and it got everyone's attention. Whoever did this knew what they were doing. ( I instantly thought of Fyre Festival!) This was the world's most exclusive destination. It was invite-only and no one over21 was allowed on it. The mission was that it was going to represent a new kind of travel, one that would allow travelers to avoid crowds and meet & mingle with curated strangers. No one knows who the owner is except that is a foreign philanthropist billionaire.
The ten influencers are:
Emma Jane (LA, 18-year-old, spoiled rich girl who is into true crime)
Justice (Kansas, 17-year-old, environmental activist)
Robby (17-year-olds, Youtube sensation chef, restaurateur)
Xander (Texas, 19 years old, football star, TikTok star for dancing)
Chelsea (LA, transgender, 18-year-old, youtube beauty guru)
Margot (NYC, 20-year-old, CEO of her own company)
Graham (Minneapolis, 19-year-old, ex-City Council member)
Manny (Miami, 19-year-old, DJ)
Frankie (18-year-old, a superstar who is TikTok famous has her own make-up and clothing line, cohost & produces reality tv)
Celia (California, 16-year-old, gamer)
When I saw the list of characters at the beginning of the book I knew I had to keep a piece of paper beside me to take notes and I am so happy that I did because so much was going on.
All these influencers think they are there because of their social media following but soon realize that it has nothing to do with their following but the deep dark deadly secret that each of them keeps to themselves and someone wants payback.
No sooner do they hit the island than things begin to go wrong. They all receive a letter after breakfast with a list of the influencers and their crimes. Then just like that one of them is murdered and a cryptic message appears on the Unknown Island's Instagram page. It doesn't take the group long to figure out that they will all be picked off one by one. As it continues to happen they realize that someone in the group is behind it but who and why?
I was way off in who I thought it could be and I wasn't right in any of my guesses only when I got to the end that I was like of yea I see it now.
I loved how the author made sure the reader got to know a little bit about the characters and what they were hiding. The story behind their secrets. Although I do have to admit that I was curious about why this particular group was curated because looking on the outside you know they are all influencers, do they know each other? Someone did a lot of work/research to curate this group.
The book is told from multiple points of view and at first, it was a little confusing but once I started to take notes it was a bit easier to follow.
This book definitely makes you realize that just because someone does something bad doesn't mean they are a bad person. It's not our place to take the law into our own hands. Two wrongs don't make a right. I think sometimes that there is a gray area in there.
I didn't realize until I went to write my review that this is a modern-day retelling of one of Agatha Christie's books, And Then There Were None. I definitely need to pick this up and read it. Have you read this?
The moral of the story is never take a free luxury vacation from a stranger you have never spoken to before.
If your looking for that summer beach read then I highly recommend this.
Book Links:
GoodReads
Amazon
Barnes and Noble
Book Depository
Chapters Indigo
Indie Bound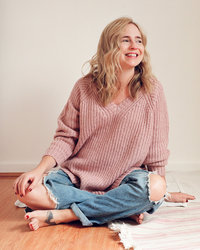 About the Author:
Kate Williams has written for Seventeen, NYLON, Cosmopolitan, Bustle, Vans, Calvin Klein, Urban Outfitters, and many other brands and magazines. She is the author of The Babysitters Coven trilogy: The Babysitters Coven, For Better or Cursed, and Spells Like Teen Spirit. Kate lives in Kansas. To learn more about her and her books, go to heykatewilliams.com or follow @heykatewilliams on Instagram.
Author Links:
Website: http://heykatewilliams.com/
Instagram: https://www.instagram.com/heykatewilliams/
Goodreads: https://www.goodreads.com/author/show/18681662.Kate_Williams
Tour Schedule:
https://tbrandbeyondtours.com/2022/05/07/tour-schedule-never-coming-home-by-kate-williams/