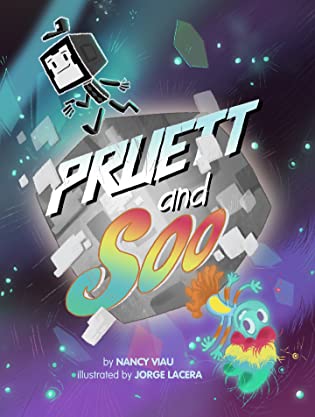 Pruett and Soo
by Jorge Lacera, Nancy Viau
Published by
Two Lions on March 22, 2022
Pages:
40
Goodreads
Pruett is from Planet Monochrome, where everything is black, white, or gray; everyone follows the rules and walks in straight lines; and they never, ever ask or answer questions. But then Soo arrives from Planet Prismatic. She's bursting with brilliant colors! She zigs and zags all over the place! When she asks Pruett questions, he finds he wants to reply…and his whole world starts to change.
With a palette that shifts from grayscale to full color, this engaging story reminds us that what you feel defines who you are—and, sometimes, a friend can help you see that best.


I quickly have to thank Amazon Crossing Kids for providing I Am You: A Book About Ubuntu for my review today. I just attended an online book event and this was provided to all attendees.
Pruett and Soo are written by Nancy Viau, who is the author of several books, and illustrated by Jorge Lacera who has worked as an artist/art director at major gaming studios and entertainment companies. He currently lives in Canada with his family.
The picture book takes place on Planet Monochrome. It's a little planet tucked away that no one notices. The main character is Pruett and for the most part, he follows the rules. Which consist of being calming, blending in, don't wear color, not playing tag, and not answering or asking questions. Basically staying inside the lines.
Then one day a new student arrives and her name is Soo. She is from the planet Prismatic. Soo is bright and colorful and very curious. To everyone around her, she is breaking the rules. Soo is struggling and wants to go home because this new place is dull. She is the kind of girl who likes to color outside the lines.
What will Pruett do? He really likes Soo and wants her to fit it, will he break the rules for her? Will he bring color to Planet Monochrome?
This was such a cute picture book and one I have to recommend. I loved watching how slowly color was introduced into the story.