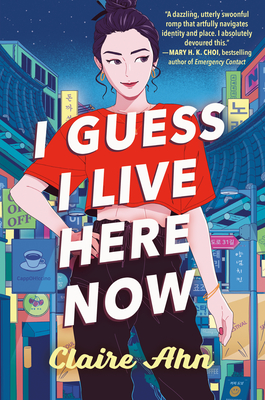 I Guess I Live Here Now
by Claire Ahn
Published by
Viking Books for Young Readers on May 24, 2022
Pages:
416
Goodreads
A journey to the place where trends are born--Seoul, Korea--where Melody Lee unwillingly moves with her family and must start a new life, a new school...and maybe a new romance.
Melody always wanted to get to know the Korean side of her Korean American heritage better, but not quite like this. Thanks to a tiny transgression after school one day, she's shocked to discover that her parents have decided to move her and her mom out of New York City to join her father in Seoul--immediately! Barely having the chance to say goodbye to her best friend before she's on a plane, Melody is resentful, angry, and homesick.
But she soon finds herself settling into their super luxe home, meeting cool friends at school, and discovering the alluring aspects of living in Korea--trendsetting fashion, delectable food, her dad's black card, and a cute boy to hang out with. Life in Seoul is amazing...until cracks begin to form on its shiny surface. Troubling family secrets, broken friendships, and a lost passion are the prices Melody has to pay for her new life, but is it worth it?

Before I begin my review I quickly have to thank Penguin Teen Canada for graciously providing me with an eArc of I Gues I Live Here Now by Claire Ahn. This is a young adult debut.
This was a fairly quick weekend read for me. I really enjoyed reading this although I have to admit I was starting to get thirsty and hungry from reading the book. There are a lot of drinks and food mentioned. I definitely would read future books from Claire. I have to say that I loved the description of Korea and all the food. I had to admit I googled what they were and in doing so it made me even hungrier. I also goggled the places and they were beautiful to see.
Our main character Melody lives in one of my favorite cities in the world, NYC with her mom in a very small apartment. Her dad lives in Seoul to run the family law firm and visits them a few times a year. Melody struggles to have a connection with her dad since he is never there.
Melody is a junior in high school and she is hoping that next summer she will land an internship at one of the best interior design companies. Things seem to be going on track for Melody until one day, Sop (her best friend) and Melody are caught smoking weed. Her mother is furious. Then what seems to be a blink of an eye her mother informs Melody to start parking because they are moving to Seoul. Melody is shocked and feels like it's her fault for the sudden move. Her mother reassures her that's not the case but you can't help but wonder why was this move so sudden? She won't give Melody the reason why this sudden move is happening. I know I was curious why it did happen out of the blue.
Upon landing in Seoul, Melody is shocked to discover that her father is rich and has a luxurious lifestyle that she knew nothing about. At first, Melody struggles with her new life in Seoul and the one she left behind in NYC. She is struggling in school ( her father has put her in a private school and expects her to achieve all A's) and the high expectations from her family to be perfect and to follow in her father's footsteps to be a lawyer. She doesn't want that, she wants to be an interior designer. How can she prove to them that this is her passion and that landing this summer internship is a once-in-a-lifetime opportunity?
I loved that this had a little element of romance to the book (a slow burn that is very typical of first love) but I think the thing I loved the most was Melody discovering things about her parents she never knew about and that it ended up bringing her parents and her closer than when she first got there. How much do we really know about our parents before they became parents? Do we know how they grew up, what their dreams were etc?
I only have one question and that is will there be a sequel to this? I am curious to know what Melody is going to do with the summer internship. Is she going to take it or will she spend the summer in Seoul? The book ended so abruptly and I was sitting there in shock. There definitely has to be a sequel right?