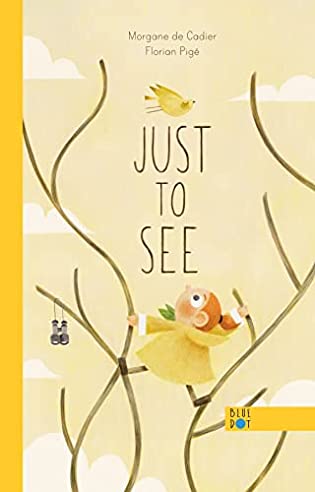 Just To See
by Florian Pigé, Morgane de Cadier
Published by
Blue Dot Kids Press on May 3, 2022
Pages:
40
Goodreads
Fans of Peter Brown and Jon Klassen will cherish this inspiring story about exploration, curiosity and an unexpected discovery
There are wonders all around us……Why not go see what you can find?
Every day, perched high up in her tree house, a girl surveys the distant forest through her binoculars. She knows every plant and animal.
But look! A strange new tree appears, towering above all the others. Where did it come from? Is it really a tree?
Intrigued, the girl sets off to take a closer look. Just to see…
Whimsical illustrations bring humor to an inspirational story about staying curious, finding wonder in nature, and seeing the familiar in new and unexpected ways.


I accessed a digital review copy of this book through Edelweiss from the publisher.
Before I begin my review I just quickly have to say how gorgeous this book is from the outside to the inside of the book. The cover is bright and colorful. Very eye-catching if this was sitting on a shelf and I would definitely pick it up to see what it is about.
Just To See is written by  Morgan de Cadier (author and artist from France) and illustrated/artist by Florian Pigé. I just checked out Florian's work and it's beautiful. I would definitely purchase his artwork and in fact, I am eyeing a few pieces.
The illustrations are stunning. I love the pale color palette that was used. You can't help but look around as you read the book.
The adventurous little girl decides to go and check it out. What could it be? It's a deer that never lost his antlers. She decides to climb them to see what she can see. What will she see as she climbs the antlers? You will need to pick up the book to find out.
I definitely would recommend this picture book. If I had a little one I know I would be instantly adding this to our collection.
I have to mention that when I went to submit my review on Edelweiss this was attached to the book:
Blue Dot Kids Press books are printed with vegetable inks on responsibly-sourced paper certified by the Forest Stewardship Council™. From the sale of every book, we donate to environmental causes through our membership with 1% for the Planet. Through our annual Earth Day Initiative with our partner One Tree Planted, readers have the opportunity to plant trees—over 1,000 trees planted to date!
I love that. It's nice to see a publisher doing that.