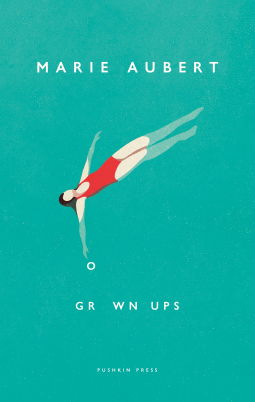 Grown Ups
by Marie Aubert, Rosie Hedger
Published by
Pushkin Press on June 3, 2021
Pages:
160
Goodreads
Ida is a forty-year-old architect, single and struggling with a feeling of panic as she realises her chances of motherhood are rapidly falling away from her. She's navigating Tinder and contemplating freezing her eggs – but tries to put a pause on these worries as she heads out to the seaside family cabin for her mother's 65th birthday. That is, until some supposedly wonderful news from her sister sets old tensions simmering, building to an almighty clash between Ida and her sister, her
mother, and her entire family.
Exhilarating, funny, and unexpectedly devastating, Grown Ups gets up close and personal with a dysfunctional modern family.


I have to admit that I am not quite sure how I stumbled upon Grown Ups By Marie Aubert translated by Rosie Hedger book. This is a super quick read that I read in one sitting. It's just about 160 pages. After reading a few heavy books lately it was nice to read something light. I have to say that I do like reading short stories and don't read nearly enough of them.
Our main character is Ida, a forty-year-old single architect. Ida is starting to panic, realizing her chances of being a mom are slowly dwindling down the older she gets especially with no man in her life. She never seems to make the connection with a man. She is a bite envious wondering why it's just not happening. I could totally relate with Ida and wonder why things don't happen for you.
But as I read the book I was starting to see Ida in a whole other light, she was a little bit egotistical and I didn't vibe with her and the same goes for her sister Marthe. She is a stepmom of Kristoffer's daughter, Olea and she basically could care less for the little girl. The little girl knows this and is not afraid to bring it up. Why her dad stayed with her is beyond me especially knowing his daughter wasn't happy. It was heartbreaking to see how Marthe would treat her. I also felt like Ida was the same way because as she is traveling on the bus to get to the family cabin she is annoyed about a toddle being loud. Although her interactions with Olea could be seen as sweet but are they?
Ida is spending her holiday with her family (Marthe, Kristoffer & his daughter, and her mom & mother's boyfriend) and she wants to tell the family of her plan to freeze her eggs in hopes of having a child one day but before she can say anything Mathe announces she is finally pregnant after years of trying. The only thing is not everyone is happy about it. Then if that isn't enough of an announcement Marthe makes another one that doesn't sit well with Ida. What will Ida do? 
I don't want to give too much away since it's really a short book.
Sadly I didn't enjoy this as much as I thought I would.