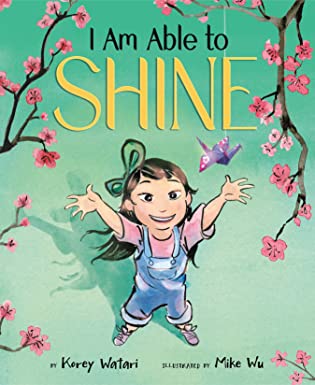 I Am Able to Shine
by Korey Watari, Mike Wu
Published by
Two Lions on May 1, 2022
Pages:
40
Goodreads
An affirmative, empowering story about embracing your identity and finding your voice, inspired in part by debut author Korey Watari's experiences growing up Asian American, and illustrated by her husband, Mike Wu, Pixar artist and creator of the Ellie series.
I am beautiful.
I belong here.
What I do matters.
I am able to shine.
Each night Keiko whispers to her crane, "I wish to change the world." She is kind, and she has big dreams. But at times she feels invisible; she knows some people misjudge her. Keiko is also loved, so she perseveres and stands strong. Over time, her confidence grows, she shares more of herself, and she helps lift up others—and eventually lead them. She understands that no matter what, she can shine.


I quickly have to thank Amazon Crossing Kids for providing I Am You: A Book About Ubuntu for my review today. I just attended an online book event and this was provided to all attendees.
I am Able to Shine is written by a husband and wife team, Korey Watari and Mike Wu. This is a debut picture book and the first time they worked together. Mike is an author, Pixar artist, and illustrator.
The illustrations are bright and colorful.
The main character of the book is a girl named Keiko and all she wants is to change the world. She is a spirited girl with a head full of ideas.
Keiko knows she is different from the other girls and each day she gives herself daily affirmations to motivate herself. She is determined to shine bright throughout her life. I should say that I applaud Keiko for being proud of who she is and her Japanese heritage. As the story progresses you see Keiko stepping away from the shadows and speaking up.
I love the message that if you believe and put your mind to it you can do and be anything you want to be.
I definitely recommend this picture book. I also loved the note from the author at the end of the book.