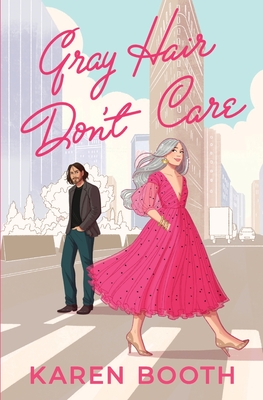 Gray Hair Don't Care (Never Too Late, #1)
by Karen Booth
Published by
Karen Booth on February 2, 2021
Pages:
276
Goodreads

Everything went wrong. And then she went gray.

At 47, newly divorced makeup artist Lela Bennett is dreading her next steps. Dating. Meeting people. Not letting herself go. But then she runs into Donovan James and tries something different-sleeping with her sexy crush from college. Unfortunately, in a post-orgasm stupor, Lela confesses she was in love with Donovan all those years ago. He responds by leaving while she sleeps. The next morning, her gray hairs are practically taunting her. She knows she has to get it together. Forget men. Embrace her age. Own her gray.
Donovan James is a marketing genius, but his ex-wives will tell you-nothing freaks him out like feelings. Three years after his one-night stand with Lela, he's focused on his daughter's lifestyle company, but unprepared to meet the face of their new beauty brand. It's Lela. With stunning silver locks and new confidence, she's no longer swayed by his charms. When business starts booming, the universe seems intent on throwing them together time and again. And suddenly, two people convinced that romance was behind them are wondering if love could be what's next.


This past year I stumbled upon Rachel's Random Resources book tours and I am so happy I did because I have been discovering some really good new to me authors and some really good books. Thank you, Rachel.
I am on a blog tour for the Never Too Late trilogy this week. The books in this trilogy are: Gray Hair Don't Care, Brooklyn Monroe Wants it All, and It's a Wdow Thing.
The first book in this trilogy is Gray Hair Don't Care and it's a second chance at love, later in life romance. I have to say I love this second chance a love tropes.
I can actually say that I fall into the demographic for this book. I am around the same age as the main character in the book. I really enjoy reading books where I know I can relate to the main characters. Even though this is fiction it's really relatable.
This was a pretty quick read (less than 280 pages) that I managed to read pretty much in one sitting. Once I started I didn't want to stop. I love the cover and I love that it takes place in one of my favorite cities, New York.
The main character is Lela and she is 47 years old. She is newly divorced and is dreading putting herself out there again. The one thing that has been constant is her love of weddings. One day while she happens to be out and about in NYC she stumbles upon a wedding. It's while she is there she spots someone from her past. Could it really be Donovan after all these years?
It is indeed Donovan and he spots Lela. Donovan and Lela were best friends in college. What either of them doesn't know is that they each had feelings for each other. Unfortunately, something or should I say someone came between them and then ended their friendship.
He goes over to talk to her and from there they reconnect over dinner and that leads to an amazing night. Which sadly is short-lived when Lela wakes up the next morning to discover Donovan high-tailed it out of there without saying something to Lela. This is not the first time Donovan has done the exact same thing to her. Lela thought this time would be different but nonetheless, it still hurts. I think this was the kick in the pants she needed to make changes her in life.
And changes she did make from deciding to go gray (which I applaud her because so many times I tell myself I should just go with it but don't have enough guts to go gray) to finally making her dream of a cosmetic line come to fruition. She manages to catch the eye of a company that wants to bring her brand into the fold. She quickly realizes the name behind the company and that is Donovan's daughter. What are the chances of Donovan being a part of this company? What will happen if these two cross paths again? Could they keep it professional?
I am excited to continue on with this trilogy and check out the back last of Karen's books.
From reading the synopsis of the other books I believe that each of the books will have a new main character with possible crossovers from the previous books making appearances.