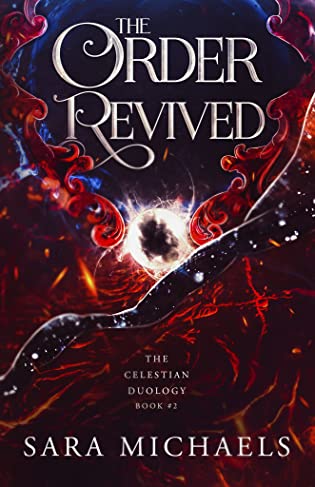 The Order Revived (The Jeweled Fairytale Retellings #2)
by Sara Michaels
on September 16, 2021
Pages:
206
Goodreads
The only thing that can balance Chaos is Order... but is one girl strong enough to save the world?
Under the reign of Chaos, Lan's family must keep their rare Order magic hidden, but when her father is called up to join The Chaos, their identity is under threat.
17-year-old Lan knows she can't lose her father to The Chaos, and she's clear what her mission is: not only must she join The Chaos in his place, she must find a way to restore balance to the world.
Lan devotes her life to masquerading as a Chaos Priest while she fulfills her true calling.
Only Order can balance Chaos, but Lan must first find a way of getting to the revered Chaos Daughter… and that's no easy task.
The Order Revived is a thrilling quest into the unknown inspired by the empowering story of Mulan. When your true calling is so clear, the only thing you can do is follow your heart.
Launch head-first into adventure with Lan in a story of courage and passion: scroll up, and click "Add to Cart" right now.
Before I begin my review I quickly have to thank Lola's Blog Tours for allowing me to be a part of  The Jeweled Fairytale Retellings this week and for graciously providing me with the ebooks so that I could read and review them. I reviewed The Chaos Daughter on Monday,  The Order Revived today and The Glass Stone will be on Saturday. You can see the whole turn schedule HERE.
I should also mention that these are my honest and sincere thoughts about the book.
Since The Order Revived is the second book in this duology I will be keeping my review short so that I don't give away any spoilers. You do have to read The Chaos Daughter before this for the storyline to make sense.
This was another pretty quick read for me and I did enjoy reading it. I definitely want to read Sara's other books and continue this series.
The world has been in chaos since The Chaos Daughter came into power. The world needs a balance of the order to function properly. We can't live in a world of chaos all the time.
Our main character is Lan and she is harboring a secret that could put the family in danger if the chaos guards find out. Lan and her family have the rare magic of Order. One day her father gets word that he is being recruited to report for duty with the chaos guards. Lan loves her father very much and doesn't want to lose him so she tells him that she will take his place. She will make herself look like a boy. Will Lan be able to pull it off? Can she restore Order to the world?
This is inspired by Mulan. I have to admit I have never read but I definitely want to pick it up and try it out.