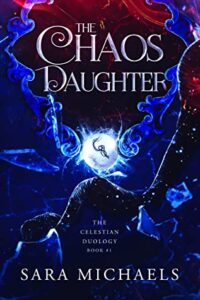 The Chaos Daughter
Series:
The Jeweled Fairytale Retellings #1
by Sara Michaels
Format:
eBook
on September 14th 2021
Pages:
183
Goodreads
When all magic is ruled by Order, being a child of Chaos is the ultimate danger.
Nastasya lives a sheltered, small-island life, hiding her Chaos magic and living quietly with her protective foster parents.
At the age of 18, she finally persuades them to let her venture across to the mainland… but what should be an exciting shopping trip quickly turns into much more than she bargained for, and events unfold that will change her future forever.
Nastasya has always been taught to hide her Chaos magic, but she's never understood why.
Her past has always been a mystery to her, but her trip to the mainland leads her to question everything, and she knows she must learn more about her birth family and the power she possesses.
The Chaos Daughter is an action-packed adventure of self-discovery inspired by the tale of Anastasia. Question everything, and trust no one: what Nastasya's about to discover will change the world forever.
Lose yourself in a heart-wrenching tale of discovery.
Before I begin my review I quickly have to thank Lola's Blog Tours for allowing me to be a part of  The Jeweled Fairytale Retellings this week and for graciously providing me with the ebooks so that I could read and review them. I will be reviewing The Chaos Daughter today, The Order Revived on Wednesday, and The Glass Stone on Saturday. You can see the whole turn schedule HERE.
I should also mention that these are my honest and sincere thoughts about the book.
I should mention that The Chaos Daughter and The Order Revived is a duology. These are not standalone books.
I have to admit that this is outside my normal genre as it's a fantasy but once I read the synopsis I was instantly hooked and I had to sign up for the blog tour. Sara is definitely an author that I have to check out. She has numerous books out that are adult and young adult reads.
The Chaos Daughter is inspired by the tale of Anastasia.
I have to start off by saying I love the cover of the book. I need to find out if this is available in physical book format because this is something that I would definitely reread again.
Our main character is Nastasya and she has lived a very sheltered life on a small island with her over-protected adopted parents. When she finally turns 18 she manages to convince her parents to let her go to the mainland with her friend Lina. With hesitation, they agree to let her go but with stern warnings. The girls have a plan of doing all they need to do and get back home before dark. Things are going smoothly until they cross paths with the Order Priests and what happens next will definitely change the course of this journey.
Nastasya was always told to hide her gem on her neck and to never show anyone. She doesn't really know the significance of it until this journey. No one has ever told her about it. This world it's ruled by order and nothing else. Nastasya will discover her past and what this power really is. Will she be able to get the revenge she needs or will the power over take her?
If you plan on reading this I suggest you pick up The Order Revived as well because The Chaos of Daughter ends in a cliffhanger. I was so happy that I had the second book because I didn't realize it was going to end like that and I had to jump right into the second book right away.
I have to admit that when I read ebooks I never look at how much is left to read especially if I am enjoying the book. With that being said I should tell you that it was a quick and fun read. I managed to read this in one sitting. One of the times I am thankful for not sleeping well and was up early so I decided instead of being on my phone I would pick up my iPad and read.
About the Author:
Sara lives in the Pacific Northwest with her husband and two dogs. A lover of the written word from an early age, Sara reads everything from middle grade to young adult and adult novels. She loves genres ranging from science fiction and fantasy to contemporary and historical fiction, which is why she writes and plans to publish across several genres, including contemporary, romance, young adult fantasy, and science fiction.
When she's not writing, you can find her playing video games, reading way too many books at the same time, singing to music, or riding her motorcycle around a beautiful Washington backdrop. She also writes for several online blogs and newspapers.
Author links:
– Website
– Facebook
– Instagram
– Newsletter