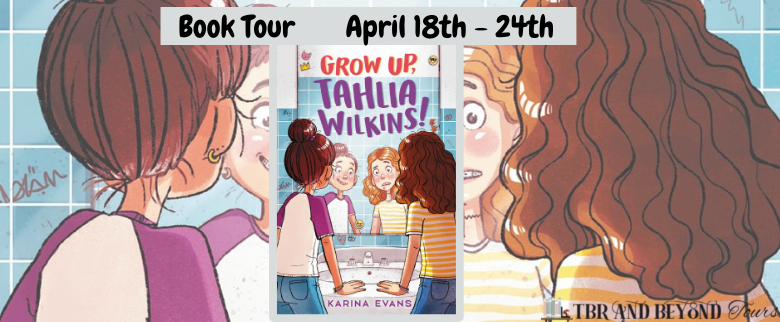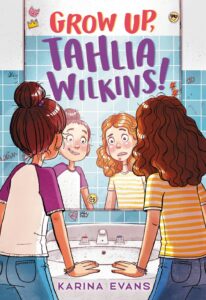 Title: Grow Up, Tahlia Wilkins
Author: Karina Evans
Genre: Middle-Grade Contemporary
Publishing Date: April 19, 2022
Synopsis:
Debut author Karina Evans gives modern-day readers their own version of Are You There God? It's Me, Margaret with a fun romp about friendship, puberty, and growing up.
Twelve-year-old Tahlia Wilkins is ready to kick off the perfect summer at the popular kid's pool party. But when the Red Goddess of Panties, aka her first period, arrives 24 hours before the pool party, it messes up all her plans. To make matters worse, her mom is out of town, and there's no way she's going to ask her dad for help! Tahlia always feared that growing up would be tough, but this is just not fair.
In order to save herself from total embarrassment, it will take all of Tahlia and her best friend Lily's scheming to keep her reputation—and her favorite jeans—from being ruined. Sneak off to the grocery store only to have the clerk price check your "goods" over the loudspeaker? Check. Trick your mature teenage neighbor into letting you use her bathroom to 'rehome' some tampons? Check. Take a dip into a fountain to 'borrow' some quarters for a bathroom period product dispenser? Check, check, check!
With the hilarious and heartwarming tone of Dork Diaries and the critically-acclaimed movie Eighth Grade, Grow Up, Tahlia Wilkins! is a coming-of-age middle-grade novel about growing up, in all of its awkward glory.
Book Links:
GoodReads
Amazon
Barnes and Noble
Book Depository
Chapters Indigo
Indie Bound

Before I begin my review I quickly have to thank TBR and Beyond Tours for allowing me to be a part of this blog tour. I was graciously provided with an eGalley of the book so that I could read and review it for my tour stop today. I should also mention that I was in no way influenced, these are my honest and sincere thoughts about the book.
Grow Up Tahlia Wilkins is a debut middle-grade novel.
When I got this email and was reading it over when I spotted gives modern-day readers their own version of Are You There God? It's Me, Margaret with a fun romp about friendship, puberty, and growing up I knew I had to sign up and pray that I got accepted for this tour, Like many girls I read and loved Are You There God? It's Me, Margaret. I can't recall how many times I have read the book. I know I wanted to reread it and went looking for my copy of the book and couldn't find it so I ended up ordering a new copy. So I will be rereading it when it comes in.
This was such a fun and quick read that I devoured it pretty much in one sitting. Thank goodness for long holiday weekends.
I definitely recommend picking this up for your middle-grade-age daughters to read. After I read this I actually went ahead and ordered a copy of this book to add to my collection because it's definitely one that I would reread again.
Tahlia is a twelve-year-old girl who is going into the eighth grade in the fall but all she is focused on is having the best summer and making everyone forget about the mishap of last summer of showing up to the most popular boy's pool party in a one-piece bathing suit with board shorts and goggles in hand. She has waited all year for this and she is prepared. Or is she?
We all know the best-laid plans will most likely go wrong and this is the case for Tahlia because just 24 hours before this pool party, Tahlia gets a huge pimple on her chin then gets her first period, and to make matters worse her mother is out of town on a work retreat. She doesn't know what to do and doesn't want her dad involved. So who else can she call but her best friend Lily.
The only thing that really bothered me was Tahlia's mother didn't prepare her or have items on hand for her or even explain the products. Although I could relate because all my mother did was give me a book on puberty to read and when the time came bought me a box of these god-awful pads. But then again if she did have this talk with Tahlia would we even have this book?
I couldn't help but want to read to see what hijinks the girls would get into, what would happen at the pool party, and would Tahlia understand the changes that will happen. Will she see things differently now?
Tahlia is every girl in the world and we have all been there and can relate to her. Everything Tahlia was trying to do was relatable. It's hard to figure out what pads or tampons to use. What's even scary is the warning on the box of tampons. It's a tough decision to make especially if you have to do it on your own.
As parents, we just need to keep reassuring our daughters that nothing about our bodies is embarrassing as Tahlia's dad told her.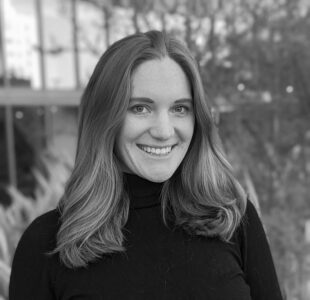 About the Author:
Karina Evans is a children's author from Santa Barbara, California. She is represented by Jessica Mileo at InkWell Management.
Karina studied English at the University of Delaware before starting a career in the entertainment industry. She works in marketing for Sony Pictures and has previously worked for Lucasfilm and Paramount Pictures.
Some of Karina's favorite things are: See's Candies, The Amazing Race, singing show tunes in the car, and volleyball. She currently lives in Los Angeles with her husband and two mischievous cats, Sir Pounce and Taika.
Author Links:
Website: https://karinaevans.com/
Twitter: https://twitter.com/karinaewrites
Instagram: https://www.instagram.com/karinaevanswrites/
Goodreads: https://www.goodreads.com/author/show/20932376.Karina_Evans
Tour Schedule:
https://tbrandbeyondtours.com/2022/03/06/tour-schedule-grow-up-tahlia-wilkins-by-karina-evans/