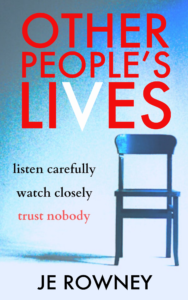 Other People's Lives
JE Rowney
Publication Date: March 25 2022
Publisher: Little Fox Publishing
Pages: 315
Other People's Lives
Listen carefully.
Watch closely.
Trust nobody.
"Let me ask you. Are you worried that someone is watching you, or are you worried that you think someone is watching you?"
Sophie Portman has lost her husband, and she thinks she may be losing her mind.
She seeks the help of psychiatrist Andrew Thacker, but as she starts to open up, the truth begins to unravel and nothing is quite as it seems.
Other People's Lives is a gripping psychological thriller from bestselling author JE Rowney.
"A heart-stopping twist. I never saw it coming." – advance reader review.
Purchase Links
UK – https://www.amazon.co.uk/Other-Peoples-Lives-J-Rowney-ebook/dp/B09GK9T7FZ/
US – https://www.amazon.com/Other-Peoples-Lives-J-Rowney-ebook/dp/B09GK9T7FZ/

Before I begin my review I quickly have to thank Rachel's Random Resources for allowing me to be a part of this blog tour and for graciously providing me with an eGalley of the book to read for my review stop today.
I should also mention that these are my honest and sincere thoughts about the book.
I love discovering a new author and I am so happy that I was able to get on the tour. I checked out the backlist she has and I am curious about her other books. I know I definitely want to check them out now. I really enjoyed this one.
I have to say that it's been a while since I read a psychological thriller and I am so happy I read this to jump back into the genre. I managed to read this over a two-day span. I could have read it in one sitting but to be honest I can't read these kinds of books at night because my brain works overtime and I have the worst nightmares. With that being said. I really enjoyed Other People's Lives and would continue to read more from this author. I think if you love psychological thrillers then you would love this one. It's fast-paced with all kinds of twists and turns.
So, I have to tell you right away that my review will be short and somewhat brief only because if I saw much more I will literally give the book away.
Our main character is Sophie, and she is seeing Dr. Thacker who is a psychiatrist. She is seeing him because she is trying to deal with her husband's disappearance, Jack, as well as the possibility of her losing her mind because she is paranoid she is being watched. Is she really being watched?
As the story goes Sophie tells us that Jack, disappeared while he was on an expedition in the Arctic. Jack traveling all over the world for his job is nothing new for Sophie but the is time she really doesn't want him to go. She needs to talk to someone and at first, you think Dr. Thacker might be that person but he is not what he appears. Does he cross the line? Does he continue?
Another person that is introduced into the storyline is Johan and he is quite the character as well. I was curious how his storyline would play into the book.
The book is told in POVs of letters to Jack from Sophie and Dr. Thacker.
I definitely think that is a 5-star book read for me because I am still thinking about the book and wondering where I missed some of the clues.
There were so many times I was speechless and didn't know what to say or think and for me, that means the book is just that good. It was definitely hard to put down and when it ended I was like WTH. I am somewhat good and figuring things out in books and other times I don't see the writing on the wall. I definitely want to pick up a finished copy of the book to reread. I am sure it will be much easier to reread a physical copy of the book instead of an eBook.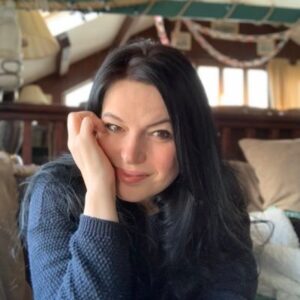 Author Bio –
J.E. Rowney spent several years in the cold Yorkshire hills, but now lives on the south coast of England. She spent ten years working as a midwife before turning in her gloves to become an author.
She has written ten novels, and also enjoys writing short stories. In 2020 she was the winner of the Pen to Print Short Story award, the Dinesh Allirajah Prize for Short Fiction, and, in 2021, the Fresher Publishing Student Writing Award.
She spends lots of time writing in coffee shops, so if you see her, say hello.
Ms. Rowney says: "I always dreamed of being a writer, until I realised that I was. Then I started to write."
You can find out more about JE Rowney on her website at jerowney.com (where you can download a free book!), or follow @jerowneywriter on social media.
Social Media Links –
http://facebook.com/jerowneywriter
http://instagram.com/jerowneywriter
http://twitter.com/jerowneywriter