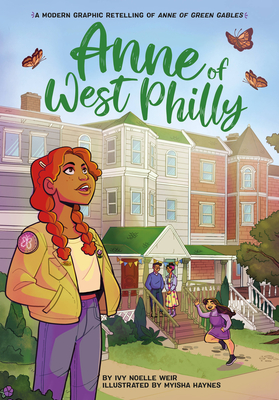 Anne of West Philly: A Modern Graphic Retelling of Anne of Green Gables
by Ivy Noelle Weir, Myisha Haynes
on March 1, 2022
Pages:
256
Goodreads
Anne of Green Gables with a twist: in this follow-up to Meg, Jo, Beth, and Amy and The Secret Garden on 81st Street, this full-color graphic novel moves Anne Shirley to modern-day West Philadelphia, where where she finds new friends, new rivals, and a new family.
When Marilla and Matthew Cuthbert decide to foster a teenage girl for the first time, their lives are changed forever. Their redheaded foster daughter, Anne Shirley, is in search of an exciting life and has decided that West Philly is where she's going to find it. Armed with a big personality and unstoppable creativity, Anne takes her new home by storm as she joins the robotics club, makes new friends in Diana and Gilbert, experiences first love, and turns the ordinary into the extraordinary. But as Anne starts to get comfortable, she discovers one thing she wasn't looking for: a family.
This title will be simultaneously available in hardcover.
If you know me in real life you know that I am a HUGE Anne of Green Gables fan so you can imagine my surprise when one day I got an email about a blog tour for Anne of West Philly. I instantly signed up but sadly I wasn't selected to be a part of the tour but that's okay because I instantly did a preorder for Anne of West Philly which I would have done anyway.
I was so happy that I did get that email because I had no idea about this book. It seems to have gone under the radar. The only ones that I hear talking about the book are from reviews that are a part of the blog tour.
Anne of West Philly is a modern retelling of Anne of Green Gables and is the follow-up to The Secret Garden on 81st Street (which is a modern-day retelling of The Secret Garden) and Meg Jo Beth and Amy (which is a modern-day retelling of Little Women). I definitely have to pick these up very soon.
This is a middle-grade graphic novel and is perfect/highly recommended for all Anne of Green Gable fans. It's a super quick read that can be read in one sitting. I know I definitely will be rereading this book many times.
Myisha Haynes did a fantastic job with the illustrations and this was the first graphic novel she designed. The illustrations are bright and colorful. It suits the book perfectly.
Ivy Noelle Weir did a fantastic job bringing Anne to the modern day. She kept Anne the spunky vibrate character that we all have grown to love.
The storyline is pretty much the same with the one exception that Marilla and Matthew decide to foster a teenage girl and they are in West Philly instead of PEI. She also made it a point to include Rachel, Diane, and Gilbert.
I have to admit I was excited to read this because I was curious to read what original storylines the author kept and she did not disappoint. She included a few of my favorite ones from the love-hate relationship between Anne and Gilbert, the modernized version of Diane getting drunk but with Cherry Liqueur Cordials chocolate, the missing brooch, and so many more.
What were your favorite or favorites scenes from Anne of Green Gables?
I highly recommend everyone who is a fan to read this.