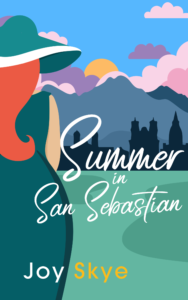 Summer in San Sebastian by Joy Skye
Genre: Rom Com
Publication Date: 28th February 2022
Standalone Fourth Book in Sublime Retreats Romance series
Estimated Page Count – 221
ABOUT THE BOOK:
Abigail's world has disintegrated, leaving her jobless, homeless, and loveless in a remarkably brief space of time.
​Where else can she lick her wounds but in Spain with her dippy Aunt May? She pulls on her big girl pants, swears off men, and leaps on the opportunity she's offered in San Sebastian. Determined to get her life back on track and find her place in the world, it finally all seems to be coming together.
​Until she meets Gabe. Gorgeous, grumpy, incredibly annoying, and obviously hiding a secret, but she has to battle against the insane attraction she has for him. He's only there for a week, after all.
​When his secret spills out on National TV, can she overcome her past hurts and learn to trust again, risking her newfound job and family in the process?
Purchase Links
UK – https://www.amazon.co.uk/dp/B09PRP6D2L
US – https://www.amazon.com/dp/B09PRP6D2L

Before I begin my review I quickly have to thank Rachel's Random Resources for allowing me to be a part of this blog tour and for graciously sending me an eArc of the book to read for my review today.
I know I say this all the time but I am so appreciative of being able to be a part of blog tours and getting emails inquiring if I want to join because I hear about so many great books that I honestly would not have known about otherwise. The same goes for discovering new to me authors. This is the perfect place to discover some hidden gems.
Summer in San Sebastian is the fourth book in the series and I don't think you really need to read the books in order. I was able to read this without feeling I was missing out on something. The previous books are Corfu Capers, Clueless in Croatia, and Falling in Florence. I managed to pick up the books in ebook and I plan on reading them this month because I really enjoyed this one and would love to see what the previous books are like.
I did see this on Joy's website:
WELCOME TO SUBLIME RETREATS ROMANCES

A series of interconnected romantic comedies that will have you laughing and falling in love. They're heartwarming stories of love, romance, hope, new beginnings and second chances featuring unique characters all set in beautiful locations.
So it does appear as though they are interconnected. Perhaps it's the Sublime Retreats company that is the linking factor.
Anyways back to my review.
The book takes place in San Sebastian, Spain and it sounds so beautiful there. I have never been to Spain but hopefully one day I will be able to visit.
Our main character is Abigail aka Abi and she has had a rough year, she was let go of her job, and then discovers her boyfriend basically was cheating on her for the past 6 months and his new girlfriend is pregnant is just the icing on the cake. With nowhere to go, she decides it's time to visit her aunt May in Spain. Who she hasn't seen in many many years.
Abi knows that she needs to get her life back on track and swears off men because she feels as though she can't trust them. I could see where she is coming from because her father left her when she was younger and her ex was cheating on her. I am sure many would feel the same way.
Abi quickly gets a job to support herself with Sublime Retreats and also helps to organize her aunt's gallery shows along with a protest. It seems like a developer is coming in to build on a green space that is used by a local orphanage and a nature park. Will they be able to stop this from happening or is it too late?
Enter Gabe. We don't know much about Gabe at first. I thought he was a bit arrogant and was happening he would not be like this the whole way through the story. He was very reserved. He clearly didn't make a great first impression to Abi in the beginning and you definitely could feel the attraction between the two of them as the story progressed.
Can Gabe break down the walls and trust that Abi has built up or will Gabe just be another man she can't trust when she finds out what he was really in San Sebastian to do?
This was a really quick one-sitting read for me and I could not have picked a better day to read it because I read this on a day when it snowed all day long. I am now at the point of being tired of winter and longing for the summer days.
This was such a fun read that I couldn't put it down because I needed to know what was going to happen next.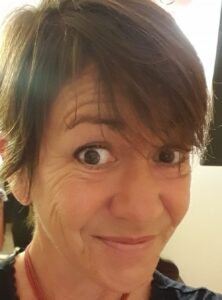 Author Bio –
Joy lives on the seductive island of Corfu with her four dogs and an embarrassing number of cats.
Her many years working in the tourist industry on this sunny isle and her love of all things literary inspired her first novel Corfu Capers which recently hit the #1 spot in Parenting and Family humour much to her delight.
She loves to cook, dance and drink wine, usually at the same time, and is currently working on her next book, due to be released later this year.
She also loves to travel, absolutely anywhere, and is looking forward to jumping on a plane!
Social Media Links –
https://twitter.com/JoySkye4
https://www.instagram.com/joys.kye/
https://www.facebook.com/JoySkyeAuthor
https://www.tiktok.com/@joyskyeauthor