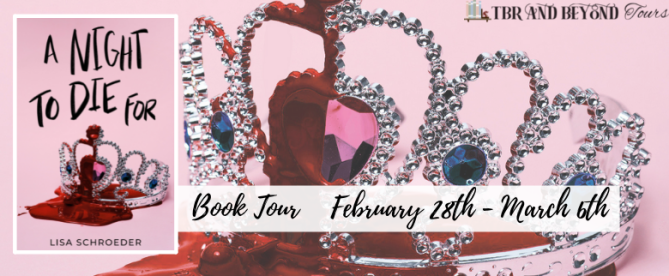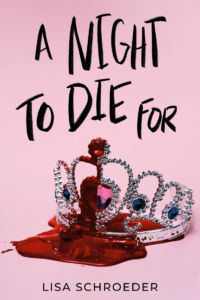 A Night To Die For by Lisa Schroeder
Genre: Young Adult Horror
Publishing date: March 1st, 2022
Goodreads | Amazon | Barnes & Noble | Book Depository | Indigo | IndieBound
Synopsis:
The Night Of meets Carrie when a boy finds a girl's body in the ditch on prom night…and becomes the primary suspect in her murder.
All Mario wants is one normal night before he graduates. He's spent most of high school riding solo and gaming with his only friend, Lucas. But when his mom asks him to take Elana Dexter to the prom as a favor to her father, his mother's boss, he figures this might be his chance to be less of a loner.
Only, the night takes a turn quickly. First, Mario gets crowned Prom King alongside the school's it-girl, Maribelle Starr. Which is weird enough. But what's weirder is that when they put the crown on his head, hundreds of worms slither out of it and all over Mario. Just when Mario thought the night couldn't get any worse, he sees something on the side of the road while driving Elana home. That something is Prom Queen Maribelle Starr—murdered and left for dead.
All Mario wanted was to go to prom…but somehow, he ended up in hell.
Underlined is a line of totally addictive romance, thriller, and horror paperback original titles coming to you fast and furious each month. Enjoy everything you want to read the way you want to read it.

Before I begin my review I quickly have to thank TBR and Beyond Tours for allowing me to be a part of this book tour and for providing an eArc of the book to read for my review stop today.
Do you ever read a book by an author you never read before and wonder why you have never read this author before? Well, that was the case for me, why have I not read Lisa's books before this? If they are anything like this one then I definitely need to check them out.
A Night to Die is told in first-person narratives by almost a dozen characters involved in prom night.
The book opens up with Mirabelle, the prom queen at the prom dancing with the prom king, Mario. Then the next thing a deputy spots Mario on the side of the road looking into a ditch at dead prom queen. How did she get there? Did Mario have something to do with it? No one knows for sure because his date is drunk in the passenger seat of his truck. One thing that piqued my curiosity was how fast a deputy was on the scene. Was he just driving around because it was prom night? Mario is instantly arrested not for murder but for contributing to the delinquency of a minor because his date was drunk. But that quickly changes when new evidence comes to light.
Then enters Parker, her boyfriend. He had plenty of motive but he can't recall what happened after he dropped her home because he went home to drink after she broke up with him. Could he have done it because he doesn't remember what happened?
As the story progresses we soon realize that Mirabelle was leading a whole other life that no one really knew about.
Lucas, Mario's best friend knows he can't let his friend who is innocent go to jail for a crime he never committed so he decides to dig around in hopes of finding out what really happened since the cops are focused on Mario. Will Lucas be able to crack the case?
I ended up reading this in one sitting because I was instantly hooked. I wanted to know who killed Mirabelle. I have to admit that for the first 3/4 of the book I really didn't have a clue and was shocked at the end. I didn't really see that coming but once I sat back and reflected on the book I could see it and why it lead the person to do it. There was definitely plenty of twists and turns to keep you on your toes in guessing who the killer was. The storyline was fast-paced which I love in mystery/thriller kinds of books.
I loved the format of the book. Not only was it written but it also included Twitter messages, text messages, press releases, newspaper articles, and also letters. I also think that those are fun elements to a book. This was definitely a quick read with very short chapters.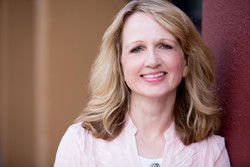 ABOUT THE AUTHOR:
Once upon a time, Lisa Schroeder wanted to join Encyclopedia Brown on his fun adventures. Since that didn't work out, she decided to be an author instead. Lisa's written over twenty books for kids and teens including the popular verse novels for teens I HEART YOU, YOU HAUNT ME and CHASING BROOKLYN, and her most recent YA novels, THE BRIDGE FROM ME TO YOU and ALL WE HAVE IS NOW. She's also the author of the middle-grade novels IT'S RAINING CUPCAKES, MY SECRET GUIDE TO PARIS, SEE YOU ON A STARRY NIGHT, and WISH ON ALL THE STARS. Her books have been translated into foreign languages and have been selected for state reading lists. Lisa is a native Oregonian and lives with her family outside of Portland.
TOUR SCHEDULE:
February 28th
Stuck in Fiction – Promotional Post
Struck by Stories – Review & Mood Board
The Book View – Mood Board
March 1st
Confessions of a YA Reader – Promotional Post
Cindy's Love of Books – Review
thebookwiccan – Review & Playlist
March 2nd
Pages & Plots – Promotional Post
The Girl Who Reads – Review
Books With Michelle – Top 5 Reasons to Read A Night to Die For & Mood Board
PopTheButterfly Reads – Review
March 3rd
AndOnSheReads – Review
Kait Plus Books – Promotional Post
BookMeSomeTime – Review
March 4th
The Book Dutchesses – Promotional Post
Artfully Bookish – Review, Favorite Quotes & Mood Board
Monogamist Reader – Promotional Post
Book Corner – Review
March 5th
Nine Bookish Lives – Promotional Post
Jen Jen Reviews – Review
Reading Stewardess – Review & Playlist
March 6th
Rae's Reading Lounge – Review & Favorite Quotes
Book Lover's Book Reviews – Promotional Post
Just a Gal and Her Books – Review
To view the Instagram schedule, please click HERE.