Influenced Love (Black Beauty in Love #1)
By Shellee Marie
Genre: Contemporary Romance
Age category: Adult
Release Date: 22 February 2022
Blurb:
A beauty influencer polls her followers to pick her date and ends up fake dating a fellow influencer, but real sparks fly when she begins to fall for the man behind his image.

After a scandal threatens her reputation, popular beauty influencer, Alivia Fae, attempts to distract her followers by polling them to pick her date. When they pair her up with a fellow influencer, Moe Gava, he takes notice and asks her out. Unfortunately, she soon realizes he's not as desirable as he seems online.

Despite her disinterest, when it's suggested that she and Moe start a fake dating relationship, to keep up engagement with their fan
s, she begrudgingly agrees. As the plan unfolds, she begins to grow closer to his low-key assistant, Travis. Leading her to re-evaluate what she truly wants to influence her life—love.
Links:
– Goodreads

Before I begin my review I quickly have to say thank you to Lola's Blog Tour for allowing me to be a part of this book tour and for the eArc for me to read for my stop today.
This is Shellee Marie's debut novel and the first book in the Black Beauty in Love series. I really enjoyed reading this and am excited to continue with the series. I should mention that this is currently free to read on Kindle Unlimited in both Canada and the US.
Our main character is Alivia and she is a beauty influencer and entrepreneur who is making her own line of hair care products.
The book begins with Alivia being the best woman at her best friend Dan's wedding. They have known each other since they were in school together. Now, this is not just any simple wedding with friends and family, no it also includes Dan's teammates (he is a baseball player) and the media.
With any wedding day, you hope it goes off without a hitch right? Well for Alivia it all falls apart from the get-go. Then one thing leads to another and it's reported that Dan and Alivia are romantically involved. I guess looking in from the outside you could see that. This doesn't make Dan's new wife, Donna very happy and she begins to think that something is going on between the two besties.
Alivia tries to do damage control amidst the negativity so she comes up with a plan. She polls her followers asking who her next date should be and it just happens to be Moe who is a fitness influencer. When the fake dating trope was announced I knew that this wouldn't go well because what Alivia doesn't know is Moe's assistant Travis is helping him out and she can almost spot the difference between the two when it comes to messages. Can they pull this off or will it be another thing for the media to discuss?
Although behind the scenes Alivia and Travis are always together and I loved their interactions. As you read you can't help but wonder if there is more to this "friendship" than meets the eye. I know as I was reading I was rooting for Alivia and Travis. The chemistry was there instantly. The whole time I was reading I was really surprised they weren't exposed sooner for as much as they were out in public together.
Will Alivia admit her true feelings to her followers?
I really enjoyed this and definitely can't wait to continue the series.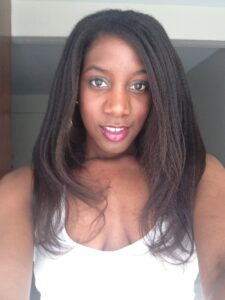 About the Author:
Shellee holds a Master of Arts degree in Political Science from Ball State University and a Bachelor of Arts degree in Communication from Purdue University. She also has two minors, in Women's Studies and Political Science, and is a member of the Independent Book Publishers Association.
Shellee is an avid reader, and in her spare time, she can frequently be found curled up with a good book. She loves a wide variety of formats and genres. She also enjoys spending time with her brilliant daughter, Trinity, and her favorite pups, Myla and Chino. Shellee currently resides in southern Maryland, where she grew up.
Author links:
– Website
– Instagram
– TikTok