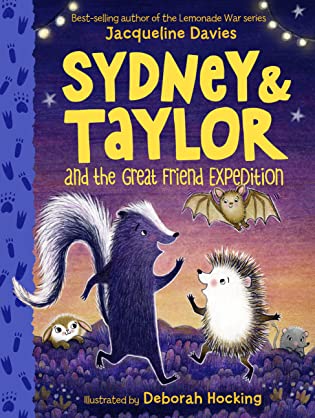 Sydney and Taylor and the Great Friend Expedition
by Deborah Hocking, Jacqueline Davies
Published by
HMH Books for Young Readers on February 22, 2022
Pages:
80
Goodreads
In this laugh-out-loud early chapter book with charming full-color illustrations, best-selling author Jacqueline Davies follows hedgehog Taylor and skunk Sydney as they set out on an adventure to make new friends, even through doubt and obstacles. Perfect for fans of the Mercy Watson and Owl Diaries series.
Sydney and Taylor have been best friends since before they can remember. But how does one make new friends? Taylor wants to try, so Sydney does what any best friend would do: accompany him on his biggest adventure yet! When sincere compliments and gifts of friendship don't lead anywhere, Sydney and Taylor may need to look where they least expect . . .
This hilarious chapter-book buddy story, illustrated with expressive full-color art, highlights the importance of friendships old and new.
I was lucky enough to get an eGalley of Sydney & Taylor and The Great Friend Expedition when I attended PW Book Show (May 2021) and I have to admit that yes I am definitely not the demographic for this super cute middle-grade book but I thoroughly enjoyed it. Even though I am not the demographic for this book I wanted to read and review this so that I could share it with you my readers who might not know about this series and is looking for the perfect books to give younger family members.
I didn't realize before this that this actually book 3 in the series when I picked it up and I have to say that I don't think you necessarily have to read the previous two books to read this one. I know when I read it I never felt like I was missing anything and I honestly thought this was the first book.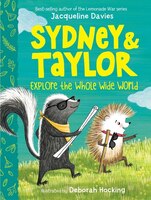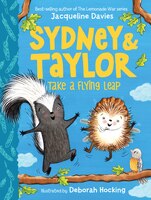 Our two main characters are Sydney (the skunk) and Taylor (the hedgehog) and they are each other's best friends which I think is absolutely the cutest thing for as long as each other can remember and as the story progresses we discover how they became best friends. Sydney is content to keep it as it is but Taylor wants them to make other friends so that can celebrate holidays, share food, or even have parties with them.
Neither really know how to go about making friends and wonder if other animals will like them. Thankfully Sydney is there to offer support and agrees to them making more friends. So they head outside to see if they can see anyone who wants to be friends with them. They spot a bird, a rabbit, a bat, and a shrew. Not sure what to do or how to do it they decide to start with pleasant conversations only that doesn't go as planned. What else can Taylor do to get friends because he has tried everything?
Will Taylor and Sydney discover the trick to make friends? To find out the answer you definitely need to read this.
The illustrations by Deborah Hocking are absolutely adorable and that had to be my favorite of the book next to the story of course. I could look at the illustrations all day long.
I definitely would recommend these books. I think kids would get a kick out of reading these,