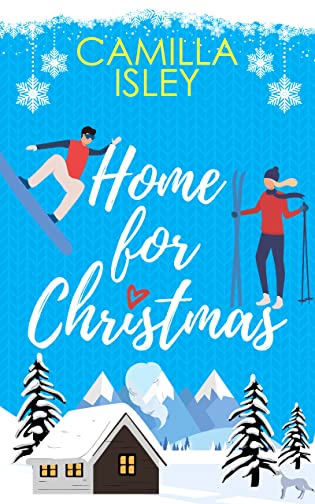 Home for Christmas (Christmas Romantic Comedy #3)
by Camilla Isley
on February 22, 2022
Goodreads
Would you share a bed with your enemy to save Christmas?
Down with a bad case of writer's block, Riven has escaped to a mountain cabin for a prolonged writing retreat. The last thing he needs this Christmas is for his family to invade his sanctuary away from LA. What he needs even less is for a family of strangers as large and boisterous as his own to also be stuck in the same house after a double-booking disaster.
Especially when he ends up having to share a bunk bed with Wendy—a gorgeous, feisty New Yorker who quickly learns how to get under his skin.
Sharing a room with her is sweet torture and Riven isn't even sure what he dreads more: that every passing day brings them closer to saying goodbye or that they have yet another night to spend together…
I recently heard about this trilogy, Christmas Romantic Comedy from a blog tour email I got, and when I looked up the book it sounded really interesting so I went to check them out. The books in the trilogy are Fool Me Twice at Christmas (fake engagement), A Christmas Caroline (Second chance romance), and this one Home For Christmas (enemies to lovers).
These are all stand-alone books. None of the characters are connected in any way.
I would classify this as a winter romance with a sprinkle of Christmas to it.
Our main character Wendy just got news from her sister that their mother who is grieving the loss of her husband doesn't want to celebrate Christmas and basically wants nothing to do with the holiday. So the sisters decide to book a ski holiday over Christmas. As we all know it's difficult to book anything close to Christmas and the family is lucky they were able to get a cabin in the woods near a ski resort.
Riven is the renter of this cabin. At first, his plan is just to stay put in the cabin because he is on a deadline to get the draft of his book to the publisher. His sister won't hear of that and encourages him to come home and spend Christmas with the family. Finally, he caves and decides to head home for Christmas. The real estate company offers him a free month of rent if they can use his cabin. He agrees because heck who wouldn't want a free month of rent. The only thing is before he can sign the contract his sister calls to say it's a no-go because the father's place is flooded and can they go there instead. He informs the real estate to cancel the deal.
The only thing is no one ever canceled and the cleaners show up, the agent shows up, Wendy and her family show up as does Riven's family. What will happen? Who will stay?
This was a super quick fun read. I read this in one sitting. I love every character in the book except for Wendy's boyfriend and Riven's soon-to-be ex-wife. The chemistry between Wendy and Riven was perfect. They were pretty stand-offish to each other but as the week progresses they both begin to warm up to each other. Definitely a slow-burn romance. I loved reading the interactions between the two and you could feel the sparks flying.
After reading this I definitely want to check out Camilla's other books. If they are anything like this I am sure I will enjoy them.