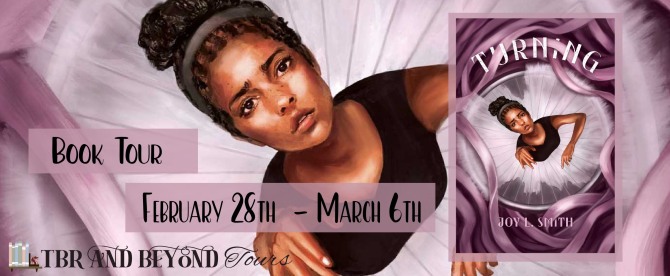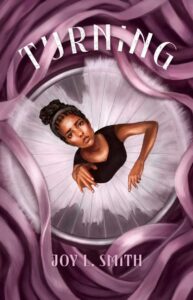 Turning by Joy L. Smith
Genre: Young Adult Contemporary
Publishing date: March 1st, 2022
Goodreads | Amazon | Barnes & Noble | Book Depository | Indigo | IndieBound
Synopsis:
In this raw, searingly honest debut young adult novel, a former aspiring ballerina must confront her past in order to move forward from a devastating fall that leaves her without the use of her legs.
Genie used to fouetté across the stage. Now the only thing she's turning are the wheels to her wheelchair. Genie was the star pupil at her exclusive New York dance school, with a bright future and endless possibilities before her. Now that the future she's spent years building toward has been snatched away, she can't stand to be reminded of it—even if it means isolating herself from her best friends and her mother. The only wish this Genie has is to be left alone.
But then she meets Kyle, who also has a "used to be." Kyle used to tumble and flip on a gymnastics mat, but a traumatic brain injury has sent him to the same physical therapist that Genie sees. With Kyle's support, along with her best friend's insistence that Genie's time at the barre isn't over yet, Genie starts to see a new path—one where she doesn't have to be alone and she finally has the strength to heal from the past.
But healing also means confronting. Confronting the booze her mother, a recovering alcoholic, has been hiding under the kitchen sink; the ex-boyfriend who was there the night of the fall and won't leave her alone; and Genie's biggest, most terrifying secret: the fact that the accident may not have been so accidental after all.
Content warnings: Being newly paralyzed from an accident, parental alcoholism, abortion.

Before I begin my review I quickly have to thank TBR and Beyond Tours for allowing me to be a part of this book tour and for graciously sending an eArc of the book so that I could read and review it for my tour stop today.
This is Joy L. Smith's debut novel. I read this fairly quickly because once I started I couldn't stop reading. There are definitely some heavy trigger warnings in the book but I think it's a very powerful book that we should all read.
The main character is Genie and she is a young inspiring ballerina who has had her dreams are cut short after a tragic accident. She is angry and frustrated because is now in a wheelchair and is paralyzed. Genie takes out her anger and frustrations on everyone around her. She knows she is hurting the people around her but she is struggling to deal with everything including the many secrets she is keeping from her mother. I don't know if it was out of fear that she would disappoint her mother or in fear her mother would start drinking again.
I have to state right off the bad that I disliked Nolan. He rubbed me the wrong way throughout the book. He was jealous, possessive, controlling, demanding, and so much more. So many times as I was reading I just wanted to shake Genie to wake up and finally leave the guy alone. He is bad news. I couldn't help but wonder if he was the reason she had fallen and hurt herself. It's very rare that I have this much dislike for a character like Nolan.
Another important character in the book is Kyle who she meets at physical therapy. He was also involved in an accident that he is struggling to come to terms with. I liked Kyle and I thought he was good for Genie. At times I thought he was a little too perfect but as the story progressed I kept hoping he would show Genie that not all guys are like Nolan and that she deserves better. Will she realize how important her mom and friends are to her really?
It was nice to see Genie grow in the book. I think she realized that she needed to grieve the accident and the abortion. She needed to get back to what she was passionate about even if she couldn't physically dance again.
Just a warning when you get to the last 1/4 of the book make sure you have kleenex on hand because more than likely you will cry as I did. I definitely would read other books by Joy in the future.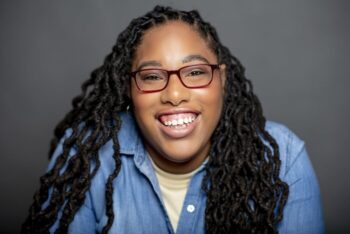 ABOUT THE AUTHOR:
Joy L. Smith is a childcare professional and lives in Queens, New York. A graduate of SUNY New Paltz, she has a bachelor's degree in human development and differences, with a specialization in communication disorders. She's been writing since she was a teenager and has been mentored by Ibi Zoboi, Radha Blank, and Emma Straub through the Girls Write Now program. Turning is her debut novel.
TOUR SCHEDULE:
February 28th
Whispering Stories – Review & Favorite Quotes
Melancholic Blithe – Mood Board & Playlist
March 1st
Kait Plus Books – Interview
Artfully Bookish – Review & Mood Board
March 2nd
Nine Bookish Lives – Promotional Post
Cocoa With Books – Review
March 3rd
The Book Dutchesses – Interview
Books-N-Bullsh!t – Mood Board
March 4th
Lily's Cozy Blog – Review & Favorite Quotes
Justice For Readers – Review & Mood Board
March 5th
Stuck in Fiction – Interview
Love, Paola – Journal Spread
March 6th
the nutty bookworm reads alot – Review
Cindy's Love of Books – Review
To view the Instagram schedule please click HERE.