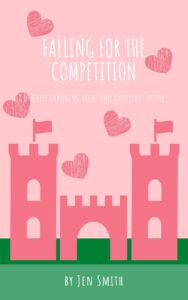 Falling For The Competition
By Jen Smith
Genre: YA Contemporary Romance
Publication Date: 6th December 2021
Standalone Novel
Estimated Page Count – 285
About the book:
It's going to be the best summer ever for ambitious, overachieving Quinn. A huge history buff, not only has she landed her dream job interning in the archives department of the local castle, but her best friend will be working there too.
However, Quinn isn't the only one to be working in Archives this summer; Quinn's academic rival, Patrick, is sharing her office in Muniments. They're competing for the Letter of Recommendation (singular) from the research historian that Quinn needs to get her dream future placement.
Their emotionally-loaded and competitive rivalry turns into a reluctant friendship, as they spend every day working together in silence (and sharing the occasional Twix). Until the Re-Enactors arrive. Between Patrick and Harry – the Golden Knight of the jousting team – Quinn's carefully planned summer is thrown into complete disarray. Meanwhile, her best friend's relationship may look perfect on the outside, but Quinn is starting to realise that there's more going on than there seems.
Although Quinn is determined and single minded about planning every detail of her sparkling future, she comes to discover that the best things in life are the spontaneous ones – and that some people are more important than any Letter of Recommendation (singular) could ever be.
Purchase Links
UK – https://www.amazon.co.uk/Falling-Competition-changing-ambitious-people-ebook/dp/B09N6YKZM7
US – https://www.amazon.com/Falling-Competition-changing-ambitious-people-ebook/dp/B09N6YKZM7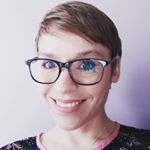 – Jen lives in the Midlands with her husband and two children. With a Masters Degree in Medieval History, Jen loves castles and King John a little too much. Strangely un-British, she does not like tea, oranges or marzipan, but adores French cheese, guava juice and Chinese food (not together).
When not writing, Jen can often be found pointing out historical inaccuracies in period dramas, being a Lady that Lunches with close friends and playing board games with her family. Note: her handbags are always heavy due to multiple books (just in case she needs them).
Social Media Links –
@jensmith950 Twitter

Before I begin my review I quickly have to thank Rachel's Random Resources for allowing me to be a part of this blog tour and for graciously sending me the ebook to read for my review today.
This was another hard-to-put-down book for me that I might have stayed up a little longer than I should have to finish it. The pacing of the book was perfect. I definitely wanted to know what was going to happen next.
Our main character is Quinn and she is a history buff who has just landed her dream summer job working in the Archives along with her best friend, Frankie, who will be working in the gift shop. This was a dream come true for Quinn because she is a huge history buff. Quinn has her life planned out for the summer and there is no room for errors because she needs that letter of recommendation to secure her future placement.
The only thing is now she has competition from her rival Patrick. Patrick is also a huge history buff who also feels the same way and is determined to get that letter as well. Quinn is not happy when she discovers that they will be spending time together in the office all summer. You definitely can feel the tension between the two of them. This is one of my favorite tropes enemies to lovers.
This perfectly planned summer that Quinn has planned is about to get turned upside down. How will she manage it all?
I love the cover. You definitely get that it takes place at a castle and that love is involved. I love simple covers like this.
This was Jen's debut novel and if her future books are anything like this then I will definitely be reading them.