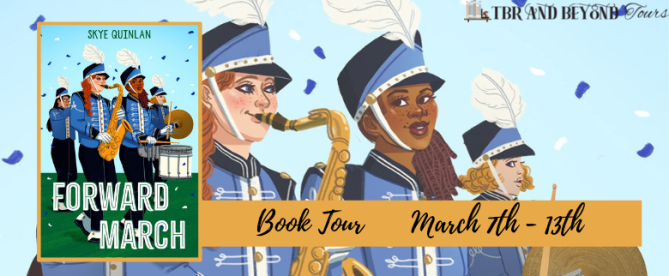 Forward March by Skye Quinlan
Genre: Young Adult Contemporary
Publishing date: February 1st, 2022
Goodreads | Amazon | Barnes & Noble | Book Depository | Indigo | IndieBound
Synopsis:
What's worse? Someone using your face for catfishing or realizing you actually do have a crush on the catfished girl?
Harper "Band Geek" McKinley just wants to make it through her senior year of marching band—and her Republican father's presidential campaign. That was a tall order to start, but everything was going well enough until someone made a fake gay dating profile posing as Harper. The real Harper can't afford for anyone to find out about the Tinder profile for three very important reasons:
1. Her mom is the school dean and dating profiles for students are strictly forbidden.
2. Harper doesn't even know if she likes anyone like that—let alone if she likes other girls.
3. If this secret gets out, her father could lose the election, one she's not sure she even wants him to win.
But upon meeting Margot Blanchard, the drumline leader who swiped right, Harper thinks it might be worth the trouble to let Margot get to know the real her.
With her dad's campaign on the line, Harper's relationship with her family at stake, and no idea who made that fake dating profile, Harper has to decide what's more important to her: living her truth or becoming the First Daughter of America.

Before I begin my review I quickly have to thank TBR and Beyond Tours for allowing me to be a part of this book tour and to Page Street Publishing for sending me an eArc of Forward March for my review today.
I should mention that there are some trigger warnings in the book.
I have to say that young adult fiction definitely has come a long way since I was a young adult and it's all for the better. There definitely needs to be more books like this.
This is Skye's debut novel and if her future books are anything like this then I will definitely be reading them. I loved Skye's writing style. I was instantly hooked and wanted to keep reading to see what was going to happen. I was pleasantly surprised that I managed to read this in one day. I really hope that Skye will continue with another book because after I finished it I couldn't stop thinking about Harper, Margot ( I loved how her dad is a Canadian Ambassador), and pretty much everyone else in the book.
Our main character is Harper and she just wants to make it through the year with no glitches because all eyes are on her because her mom is the strict school dean and her father is running in the presidential election. Then if that is not enough she discovers someone has made a fake dating profile using her photo.
This catfish is sending messages to a fellow bandmate Margot. She confronts Harper about this. Harper needs to keep this quiet while she figures out who did this and why because if this out gets it's not going to look good. There is too much on the line for her. She just wants to blend in and not draw attention to herself. Will they be able to figure out who is doing this and why?
I loved reading how Harper and Margot went from basically being bandmates to friendship to possibly more. This was a slow burn which I was all for. Margot turned out to be the right person for Harper especially when her so-called friends started to turn their backs on Harper.
I don't want to say much more because I feel like I will give the book away so if you are curious then I suggest picking this up to read. You won't be disappointed.
If you have been here for a while you know I rarely buy finished copies of books and that's mainly because I don't tend to reread a lot of my books once I am done with them, but this is the exception to the rule. I definitely plan on purchasing this book to reread.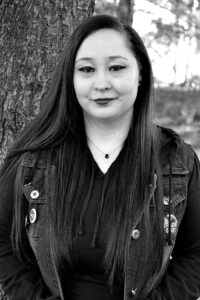 ABOUT THE AUTHOR:
Skye Quinlan (she/her) was born in California during an earthquake and raised in the Midwest, where cornstalks outnumber people. She studied physical and cultural anthropology at Oregon State University, with a focus on ancient civilizations and a minor in creative writing. Forward March (Page Street Kids, February 1st, 2022) is her debut novel. When she's not writing, you can catch her at the nearest metaphysics or craft store, dressed up in cosplay at the nearest convention, or ruining antique furniture with epoxy resin and paint. Skye still lives in the Midwest with her wife, their two dogs, several lizards, a snake, and the occasional little human (their niece). She is represented by Moe Ferrara at BookEnds Literary Agency.
Website | Twitter | Instagram | Goodreads | TikTok
TOUR SCHEDULE:
March 7th
Kait Plus Books – Review & Favorite Quotes
Midsummer Night's Read – Review
March 8th
Birdie's booktopia – Review
Rainbows and Sunshine – Review & Favorite Quotes
March 9th
Books Are Magic Too – Review
Ms. G in the Library – Review, Playlist & Top 5 Reasons to Read Forward March, Promotional Post
March 10th
Nine Bookish Lives – Promotional Post
Popthebutterfly Reads – Review
March 11th
Cindy's Love of Books – Review
The Book Dutchesses – Promotional Post
March 12th
Twirling Book Princess – Promotional Post
Rampant Reading Reviews – Review
March 13th
Stuck in Fiction – Promotional Post
Althea Is Reading – Review & Mood Board
To see the Instagram schedule please click HERE.