Wedding Wobbles by Amanda Paull
Genre: Romantic Comedy
Publication Date: December 2021
Standalone Fifth Novella in The Scott Family Series
Estimated Page Count: 134
Laura and Ben have survived all manner of family mayhem. They are, against the odds, still together. A perfect wedding and happily ever after are on the horizon.
Or are they?
​After no end of spokes in their wheels, our favorite lovebirds have named the day. A small do in a lovely venue, with a handful of family and friends to help them celebrate.
​So where does the ungrateful pasty-loving woman come in? And when Laura and Ben are wrestling with scraggy flowers and rum-soaked fruit cake, where are Maureen and Fenella?
​If you enjoyed the first four stories in the Scott Family series of romantic mayhem, you'll love Wedding Wobbles, the final installment.
Purchase Links
US – https://www.amazon.com/Wedding-Wobbles-hilarious-heartwarming-conclusion-ebook/dp/B09NYBN7JJ
UK – https://www.amazon.co.uk/Wedding-Wobbles-hilarious-heartwarming-conclusion-ebook/dp/B09NYBN7JJ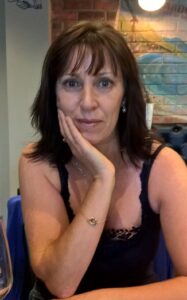 About Amanda Paull
​
Amanda Paull grew up in the North East of England and couldn't wait to move away. However, after studying and then living both in England and abroad, she returned to the North East and now wouldn't dream of living anywhere else.
​​
After a short career in teaching, she retrained as a nurse. She recently retired from her post as a Sleep Nurse Specialist and now spends her time writing Women's Fiction novels and Romantic Comedy short stories and novellas.
​
Follow Amanda Paull
Website: http://www.amandapaull.co.uk
Social Media Links –
Facebook: https://www.facebook.com/amandapaullfiction
Twitter: https://twitter.com/Apaullfiction
​

Before I begin my review I quickly have to thank Rachel's Random Resources for letting me hop on to this blog tour and for graciously providing me with an ebook so that I could read and review it for my stop today.
This is the fifth and final book in the Scott  Family series. The previous books in this series are, Let's Dance, A Christmas Day Kerfuffle, Fenella's Fabulous Fountain Fondue, and Pedalo Pandemonium. I should say that I didn't read the previous books before this so not quite sure if you can fully get the experience of the series but this can be read as a standalone. Since reading this I have picked up the other books via Kindle Unlimited to read as I would love to know the whole story and they all seem like pretty quick reads. Hoping to read them this weekend.
Anyways back to my review which I will be keeping short since its part of a series.
Wedding Wobbles was a really quick and easy read that I read in one sitting while sipping my morning coffee.
If you have ever planned a wedding you know how stressful it can be with trying to do what you want and trying to do what your family wants. I could relate to Laura and Ben. Weddings can be a stressful process.
As you read you wonder if Laura and Ben will make it down the aisle or will family interference stop them. I know I kept saying just run away and elope save yourself the headache of this family drama.
I think Laura's family was the best I read in a while. They were so down-to-earth and loving. The family came off very realistic and genuine to me. I could relate to them. They are good people who deserve good things but it's like nothing ever good happens. Meanwhile, Ben's family was the complete opposite of them. They are that posh family. Fenella, Ben's mom just kept rubbing me the wrong way.
I definitely would read future books by Amanda. I really enjoyed this light fun read. Check back because I plan on reading and reviewing the previous books shortly.