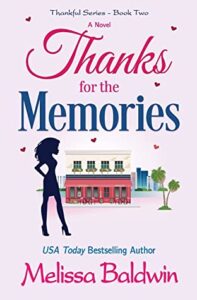 Thanks for the Memories: A Friends to Lovers Romantic Comedy (Thankful, #2)
by Melissa Baldwin
Format:
eBook
Published by
Independently Published on May 3rd, 2021
Pages:
322
Goodreads
A new beginning leads to a second-chance at romance.
Done with the frigid northern winters, Reagan Westbourne has an easy solution—move to Miami. It makes total sense. She can even live with her sister. But after a few months of enduring her quirky sibling's newlywed bliss, Reagan is ready to spread her wings and move out. Life with two fun roommates and a promising job completes the picture for Reagan. Almost.
When Reagan's old college friend, Dante, opens a new restaurant in Miami, the past mixes with the present. Afterall, he's the only man Reagan's ever had feelings for. And it seems the attraction might just be mutual. Yet when their paths finally seem to align, old and new friends enter the picture, leaving Reagan unsure of her feelings.Could this second-chance be the answer, or is it time to leave the memories in the past?
Thanks for the Memories is the second book in the Thankful trilogy. The other books in the trilogy are Thanks for the Love and Thanks for the Friendship. I will be reviewing Thanks for the Friendship on Thursday. So be sure to come back and check that out.
The main character in this one is Reagan. She has been living in Miami with her newlywed sister and is excited to move in with Lila and Gabby. Reagan has also left her hometown and moved down to Miami. She is done with the rigid cold winters and I can totally relate. I am in Canada and I am so done with winter. It's usually this time of year when I am starting to crave the warmer spring weather and ditch the cold winters. You would think I would be used to it seeing as I grew up on the east coast of Canada but as I get older I just can't tolerate it anymore.
Anyways back to my review.
I should add that each of these novellas can really be read as a stand-alone but I think you would enjoy them more reading them in order.
As I said this one is about Reagan and her growing crush on her college friend Dante. Dante is also living in Miami and trying to make his restaurant a success. Reagan will use any excuse to go and eat at the restaurant just to see him. She wants there to be more but it seems like Dante doesn't feel the same way or does he? Will he be able to put himself first or will be put his restaurant first?
Things start to get complicated when someone from Reagan's past comes to town. She is struggling to remain a good friend and trying to navigate her feelings for Dante. What will she do when she finds out that someone is very interested in her and is willing to make her number one? Is Reagan willing to try it out or will her feelings for Dante prevent her?
I loved that even though this was about Reagan there was still a sideline story going on with Gabby and Lila.
For me personally, I love this trope in romance books, long-time friends turning into lovers. Who doesn't want that friend you have been crushing on to be much more than just a friend?
This one was definitely a bit longer but yet I still managed to read this in one sitting. I instantly wanted to know more about Reagan and her story. I am definitely excited to read the third and final book.