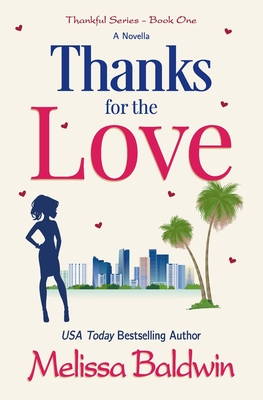 Thanks for the Love: An Uplifting New Beginnings Romantic Comedy Novella
by Melissa Baldwin
Published by
Independently Published on April 2, 2021
Pages:
130
Goodreads
When your life crumbles around you, it's hard to find something to be thankful for. Nevertheless, Gabby Marshall is determined to start anew in sunny Miami. New city, new job, and two new interesting roommates bring lots of new opportunities for a fresh start. As well as some challenges and surprises.Gabby's putting her heart and soul into her new career, without the distraction of love getting in the way. Yet she keeps crossing paths with the gorgeous and welcoming Theo Jorgenson. Maybe Gabby could make one little exception and allow Theo in ... except her new roommate and Theo are sworn enemies.Life in Miami could be promising ... or it could fall apart. Again.Fans of the Golden Girls will love this modern, romantic comedy twist!
I recently heard about this trilogy, Thankful from a blog tour email I got, and the books sounded really interesting so I went to check them out. Kindle Unlimited currently is offering the series for free. This is the first book in the trilogy and each of the books features each of the characters. Each one will be the main character in them.
Our main character is Gabby and she has just moved to Miami and is working in her sister-in-law's sister's real estate office. After all that she went through all she wanted was a clean start. I was curious as to why Gabby just packed up her life and had to move away and as the story progresses she explains why she did that and I applaud her for doing that.
Gabby starts off by saying that she just wants time to get back to herself, make a name for herself in real estate, and get to know her roommates, Lila and Reagan. She wants nothing to do with men for a while that is until Theo makes an appearance. Will she be able to resist Theo's charms?
I loved the instant friendship of Gabby, Lila, and Reagan. They were all there for each other. I look forward to reading more of them and getting to know them as the trilogy continues.
This was a super quick and fun read. I devoured this in one sitting and it definitely piqued my interest to want to read the rest of the books and to read more from this author. I think it was just the perfect length to discover Gabby and to get to know her.
I have to say that I could really relate to Gabby because I faced a similar situation. I left my tiny little hometown city and moved to another province, in a bigger city. I was engaged to get married and as time went on I realized that it was not the right thing for me to do. Things were just off. Anyways, things were starting to get nasty and out of control, and to be honest I didn't feel safe so I made the leap and decided to leave. Thankfully I had my sister where I am now so I wasn't really going in not knowing anyone.
I was much happier when I moved and started my life all over again. I wouldn't trade it for anything.