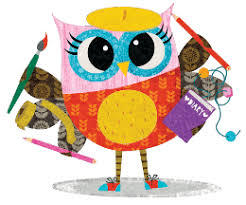 I can't recall how I stumbled upon the Owl Diaries series because it's been quite a few years now but I must have spotted it on a shelf at Chapters and flipped through it and instantly fell in love with our main character Eva. These books are an automatic buy and read for me.
Eva is just your typical little owl trying to make it through her day-to-day life and even though she is just an owl she struggles with things and situations like most kids do but with the help of her friends, she manages to get through it.
I know I am not the demographic age for this series since it's geared towards 1st and 2nd graders but this series is too cute not to pass up and read. The illustrations are bright and colorful in each and every book and they draw you into the story. With its easy to read text with speech bubbles even. The storylines move at a good pace and you always walk away with a little message at the end of each book. Plus an added bonus is at the end of the book there are a few questions that are asked to see how much you remember from reading it and I think that is great because it forces you to remember what you just read. It can also be a conversation starter if a parent is reading the book to a child.
You don't have to read these in order as each can be read on its own and I highly recommend this series to new readers. I even managed to get a dad who was looking for books for his daughter to pick up a few books in the series as I am sure she will love it.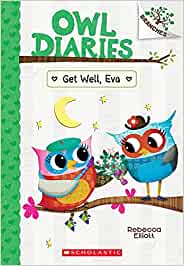 I personally can't pick out a favorite because I truly enjoyed them all. Eva is just the cutest owl is she not? To date, there are 16 books in the series (the newest one is called Get Well, Eva) and as of posting this, I should say I don't see a book 17 yet.
Here are just a few of the books in the series.