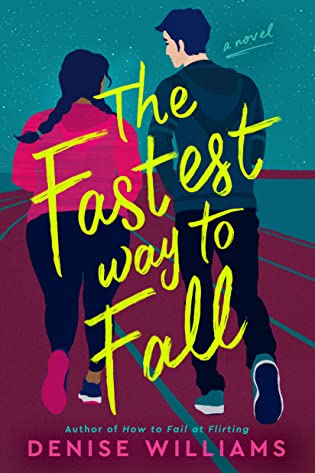 The Fastest Way To Fall
by Denise Williams
Published by
Berkley Romance on November 2, 2021
Pages:
384
Goodreads
Britta didn't plan on falling for her personal trainer, and Wes didn't plan on Britta. Plans change and it's unclear if love, career, or both will meet them at the finish line.
Britta Colby works for a lifestyle website, and when tasked to write about her experience with a hot new body-positive fitness app that includes personal coaching, she knows it's a major opportunity to prove she should write for the site full-time.
As CEO of the FitMe app, Wes Lawson finally has the financial security he grew up without, but despite his success, his floundering love life and complicated family situation leaves him feeling isolated and unfulfilled. He decides to get back to what he loves—coaching. Britta's his first new client and they click immediately.
As weeks pass, she's surprised at how much she enjoys experimenting with her exercise routine. He's surprised at how much he looks forward to talking to her every day. They convince themselves their attraction is harmless, but when they start working out in person, Wes and Britta find it increasingly challenging to deny their chemistry and maintain a professional distance.
Wes isn't supposed to be training clients, much less meeting with them, and Britta's credibility will be sunk if the lifestyle site finds out she's practically dating the fitness coach she's reviewing. Walking away from each other is the smartest thing to do, but running side by side feels like the start of something big.
Before I begin my review I quickly have to thank Penguin Random House USA for allowing me to be a part of this blog tour and for graciously sending a eGalley of The Fastest Way to Fall to read and review for my tour stop today.
This is Denise William's second stand-alone book. How To Fail at Flirting was her debut novel.
After reading The Fastest Way to Fall, I instantly added How to Fail at Flirting to my Christmas wish list because I absolutely loved The Fastest Way to Fall. (I might have even added this book to my wishlist as well.) I was instantly hooked two chapters into the book.
The Fastest Way to Fall is about Britta and Wes. I loved Britta. She was the kind of main character I love. She was funny, smart, bold, determined, entertaining and so much more. I loved Wes too. He was sweet, caring, kind, and so much more. Wes would be the kind of guy I would instantly be drawn to. He is definitely boyfriend material.
Britta works for a lifestyle website as an assistant but she wants something more permanent. Every time she suggests something it feels like her boss always says no. Although this time when Britta proposes writing about one of the newest fitness apps she feels like this could be it, sadly as soon as she mentions it, it's shut down until her rival Claire speaks up and suggests a twist on that. It will involve both Britta and Claire having to work together to write about two different fitness apps. They both will sign up and write about their experiences with it. In the end, the best one will be promoted. Will it be Britta or Claire?
Britta tackles FitMi Fitness because she likes what this app is about. It's not all about weight loss but feeling happy and healthy. At first, she cares more about her story but quickly that changes. Little does she know but her coach is Wes the CEO of the company. Wes loved the answers to her replies in her questionnaire and decided to pick her as his client. He knows that someone will be writing about their experiences with the app but has no clue it's Britta. It doesn't take long before the two are sort of flirty with each other. You can see Wes trying to keep it professional because this goes against the rules of the app but he can't help it.
As the two continue to talk via the app, they both realize that they enjoy their time together. They decide to take this off the app and work out together in real life. Will this be a good idea or a mistake waiting to happen?
As you read you begin to wonder will they or won't they. I know as I was reading I kept thinking that and you can't help but want it when two characters are invested in each other even though they have no idea who the other is and what they look like.
If you are curious to know you have to read the book to find out.