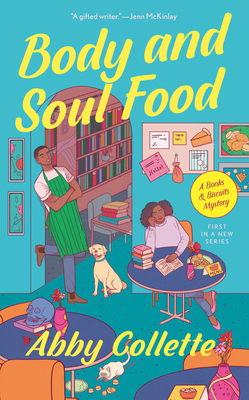 Body and Soul Food
by Abby Collette
Published by
Berkley Books on November 9, 2021
Pages:
336
Goodreads
In this page-turning new mystery series, fraternal twins Keaton and Koby will pull double duty when they take down a killer while preparing to open their new bookstore and soul-food café , Books & Biscuits.
When Koby Hill and Keaton Rutledge were orphaned at age two, they were separated, but their unbreakable connection lingered. Year later, they reunite and decide to make up for lost time and capitalize on their shared interests by opening up a well-stocked bookstore and cozy soul-food café in the quaint Pacific Northwest town of Timber Lake. But this new chapter of their lives could end on a cliffhanger after Koby's foster brother is found murdered.
The murder, which occurred in public between light-rail stops, seems impossible for the police to solve. But as Keaton and Koby know, two heads are always better than one, especially when it comes to mysteries. With just a week to go before the grand opening of their new café, the twins will use their revitalized connection with each other to make sure this is the killer's final page.
Before I begin my review I quickly have to thank Berkley/ Penguin Random House USA for allowing me to be a part of this blog tour and for graciously sending me a eGalley of Body and Soul Food to read and review for my tour stop today.
This is the first book in the Books & Biscuits Mystery series. It's a cozy mystery that is perfect for this time of year. Abby Collette is a new author for me but after reading this I definitely want to check out her other series called An Ice Cream Parlour Mystery.
Fraternal twins, Koby and Keaton are in the midst of opening their new bookstore & cafe called Books and Biscuits. I love the idea of having a bookstore and a cafe together. I am sure I would never leave if there was one here.
Back to Koby and Keaton. When they were infants they were abandoned by their young mother. Sadly the twins were separated. Keaton was fortunate to get adopted but sadly Koby did not and he grew up within the foster care system. It was only as adults they were able to reconnect. Keaton had no idea she had siblings until Koby showed up on her doorstep. Koby has convinced Keaton to start a business with him. With their experiences, Keaton as a librarian and Koby as a cook.
Koby is very protective of Keaton as you can see throughout the book and especially when it comes to his foster brother Reef and his flirting with Keaton. He fears that this flirting will only progress.
One evening Koby and Keaton are heading home and Koby doesn't like the idea of Keaton traveling on her own, but thankfully Reef is in the area and is heading in Keaton's direction so he says he will make sure she gets home. As Keaton is boarding the subway she finds Reef and before they can talk he falls over. She quickly pulls the alarm but it's too late Reef is dead.
What happened and why was Reef killed? Did Reef know he was in danger beforehand? Can the twins figure out this mystery?
I have to say I had a hard time with the first chapter because of the way it started. I was slightly confused with the interaction of all three of them but after taking a minute to write names down and connections I was able to get into the book and from that point, I had a hard time putting it down. I don't read a lot of cozy mysteries but the ones I have read I really needed pen and paper close by to joint names and events down to look back on and since this was an ebook I had to have one close by to keep track of things.
Overall I did enjoy it and looking forward to reading future books in this series.