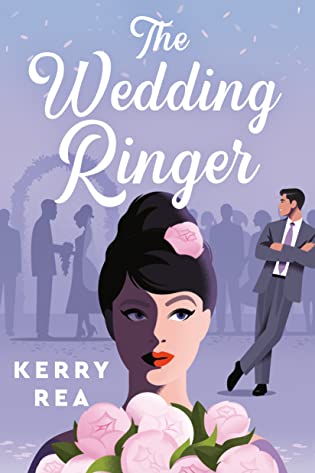 The Wedding Ringer
by Kerry Rea
Published by
Berkley Books on November 9, 2021
Pages:
368
Goodreads

A woman who wants nothing to do with love or friendship finds both in the unlikeliest ways in this hilarious and heartwarming debut by Kerry Rea.

Once upon a time, Willa Callister was a successful blogger with a good credit score, actual hobbies, and legs that she shaved more than once a month. But after finding her fiancé in bed with her best friend, she now spends her days performing at children's birthday parties in a ball gown that makes her look like a walking bottle of Pepto Bismol. Willa dreams of starting fresh, where no one knows who she used to be, but first she needs to save up enough money to make it happen.
Maisie Mitchell needs something too: another bridesmaid for her wedding. After a chance encounter at a coffee shop, Maisie offers to pay Willa to be in her bridal party. Willa wants nothing to do with weddings--or Maisie--but the money will give her the freedom to start the new life she so badly desires.
Willa's bridesmaid duties thrust her into Maisie's high-energy world and into the path of hotshot doctor Liam Rafferty. But as Willa and Maisie form a real friendship, and Liam's annoyingly irresistible smile makes her reconsider her mantra that all men are trash, Willa's exit strategy becomes way more complicated. And when a secret from Maisie's past threatens to derail the wedding, Willa must consider whether friendship--and romance--are worth sticking around for.
Before I begin my review I quickly want to thank Penguin Random House USA for sending me a eGalley of the book to read for my tour stop today.
The Wedding Ringer is Kerry Rea's debut novel.
I know I probably say this constantly in my posts but two of my favorite things are getting pitched fantastic books by publicists, (I love hearing about books that I might not normally have heard about) and then being able to be a part of a blog tour to promote those said books here on my blog.
As soon as I started to read The Wedding Ringer I was instantly hooked and had a hard time putting it down. I may or may not have spent the day reading this yesterday. It was a pretty quick read for me. I will definitely be picking up Kerry's future books as soon as they come out. I love discovering new authors.
I should let you know the main reason I wanted to read this was that Willa, our main character was a blogger and after "the incident" lost everything and basically did a downward spiral. She didn't have the desire to write blog posts anymore. Willa had it all, a successful blogger that had a following, a best friend she has had forever, and the perfect fiance. Everything was perfect up until a few weeks before the wedding when Willa discover he was cheating on her. To make matters worse it was with her best friend. She caught them in the act. Willa was heartbroken and was struggling to get over the loss of her relationship with not only her finance but her best friend as well.
Since then Willa lives with her sister and family. She works as a kids entertainer as Princess Sparkleheart and that doesn't exactly go as planned because her last gig was a disaster. She sees her ex-best friend at this party and some random guy ends up laughing at her as she is trying to make her getaway.
Then one day while sitting in a cafe waiting for her date to show up, in rushes a woman, Maise asking to have a seat at her table. She then proceeds to ask Willa a huge favor because Willa is the only one that can help her. She needs a friend and is willing to pay. At first, Willa is not so sure about this but after Maise shows up at her sister's house she figures she has nothing to lose. It's a win-win situation for them both. Then this leads to Willa being asked to be a bridesmaid at her wedding. I was curious about Maise and was always wondering why she needed to pay someone to be her friend. We realize that there is more to Maise's story than anyone knows and as the book progresses we finally get her story.
I have to admit that I did feel bad for Maise because she was getting married to a prestigious family and looking in you think it's the perfect family and Maise just wants to fit in and be loved even though she is letting her soon-to-be mother-in-law run the whole show. Maise is not happy with the choices being made. I was practically yelling at the book saying come on Maise it's your wedding. But I do get where she was coming from as I could relate. I had some people offering their ideas on how my wedding should be.
Another key character is Liam. It turns out that Liam was that random guy laughing at Willa. You can instantly see Willa wants nothing to do with him but it always seems like he is always right there at the right times. Will Willa be able to let bygones be bygones and give Liam the chance he so deserves or will she let her ex have that power over her?
Can Willa pull it off being the pretend friend at this wedding? Or is she realizing that Maise is just what she needs in her life? Will it take Maise's breakdown for it all to come together?