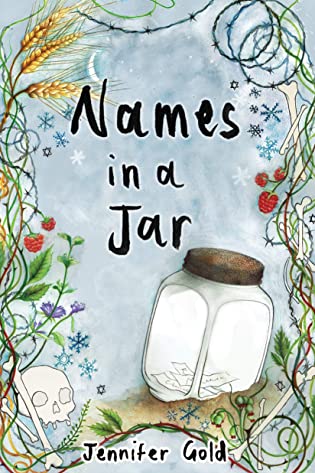 Names in a Jar
by Jennifer Gold
Published by
Second Story Press on September 14, 2021
Pages:
336
Goodreads
Twelve-year-old Anna Krawitz is imprisoned in the Warsaw Ghetto with her older sister, Lina, and their father. Happy days spent reading about anatomy and science in Papa's bookshop are long gone, and the knowledge they have is used to help their neighbors through the illnesses caused by starvation and war.
With no hope in sight and supplies dwindling, Anna finds herself taking care of an orphaned baby. With a courage she didn't know she had, Anna and the baby leave behind all they know and go into hiding with a Catholic family, changing their names to hide their identity, but Lina is not so lucky and winds up in the infamous Treblinka Camp. Can Lina survive and find her way back to Anna? Will the two sisters even recognize each other after such a long time?
A story filled with hope, courage and reconciliation.
Thank you Second Story Press for providing an eGalley of Names in a Jar by Jennifer Gold so that I could review this book.
Names In A Jar is told from the points of view of sisters Anna and Lina and it opens up in 1939 just before WWII begins. The girls and their father live in Warsaw. Sadly the girls' mother died shortly after she gave birth to Anna.
I loved reading about Anna and Lina. Lina being the big sister took pride in raising her little sister always looking out for her. She only ever wants the best for Anna. Anna has so much love for her older sister and knows she does things out of pure love.
When the German soldiers attack and force the Jewish families to the ghetto you see how bad life was for them. Lack of food and medicine being available they realized that had to do something about that. This is where small children were enlisted to sneak out and smuggle things back but that comes with a risk of being killed. I am sure at that point everyone was willing to take the chance to help their families. Anna wants to do it and I am sure every time she was late Lina worried about her.
When a chance is presented Anna's father decides Anna needs to get out of the ghetto to have a better life and goes ahead with a plan to have her smuggled out. I was thoroughly surprised and impressed at how well Anna took it. Armed with a new name she went to live with a wonderful couple who could not have kids but treated her like their own as she was growing up. I was thoroughly impressed by Anna/Maria and how she stepped in to help the farm animals. I admit this was when I was squeamish.
Lina remained in the ghetto with her father until his passing and until the soldiers came and moved the Jewish people to the concentration camps. We see Lina's brief life in the concentration camp and how her ability to speak another language is what saved her and the chance meeting of Jerzy. With plans of escaping will Lina and Jerzy get out safe and sound?
Without going into too much more of the book I do wish there was more of Anna and Lina's story. I am hoping that perhaps another book is coming because there is so much more to their story.
This was such an emotional read and I could not put it down. I read this pretty much in a day. I thought the writing was beautiful and we all know what happened during WWII and I am happy that Jennifer doesn't take the book in that direction. Jennifer focuses on showing the strength and determination of these two sisters.  Definitely, a must-read.
I will never look at a jar the same way after this book.