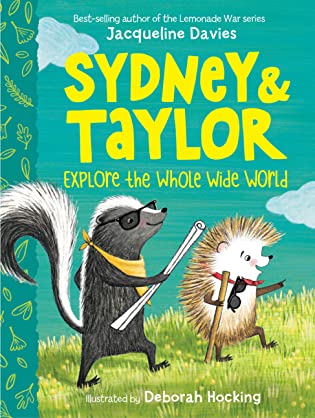 Sydney and Taylor Explore the Whole Wide World
by Deborah Hocking, Jacqueline Davies
Published by
Clarion Books on February 2, 2021
Pages:
80
Goodreads
Best-selling author Jacqueline Davies tells the story of two unlikely friends: Sydney and Taylor, a skunk and a hedgehog who strike out to discover the great unknown, despite how afraid they are of it. Charming full-color illustrations and a laugh-out-loud story make this chapter book perfect for fans of the Mercy Watson and Owl Diaries series.
Sydney is a skunk and Taylor is a hedgehog, but no matter how odd the pairing may seem, their friendship comes naturally. They live happily in their cozy burrow . . . until the day Taylor gets his Big Idea to go see the Whole Wide World. From mountains taller than a hundred hedgehogs, valleys wider than a thousand skunks, to the dangers that lie in the human world, Sydney and Taylor wanted to see it all. With a map and a dream, they bravely set off, soon discovering that the world is much bigger than they realized . . .
I was recently introduced to these wonderful and cute characters, Sydney and Taylor when I had attended PW Book Show (May 2021). I was given an eArc of the series upcoming book 3. At the time I didn't realize that it was the third book and it was only afterward that I discovered it and quickly went to see if I could find the previous books.
Thankfully I was able to pick up a copy of Sydney and Taylor Explore the Whole Wide World through my local library. This is the first book in the series.
I loved reading this because this is the epitome of true friendship. We all need best friends like Sydney (the skunk) and Taylor (the hedgehog)  in our lives because no matter what one bestie wants to do or how crazy it might be you go along with them.
Taylor comes up with the brilliant idea to explore the world and to see what is beyond Miss Nancy's potting shed and yard. Now Sydney is not the biggest fan of Taylor's brilliant ideas but he always goes along with him and in this case, it's a good thing because Taylor has packed up everything but the kitchen sink to take on this journey. Sydney tells him that he doesn't need all that. They head out on this journey.
This journey doesn't go quite as planned because Taylor can't really read the map he brought and they get lost. Then they take a break to rest and eat only to discover that Taylor didn't pack any food after all. Not once has Sydney gotten cross with his friend and suggest that they are capable of hunting for their food and go on the hunt. Only that doesn't go quite as planned.
Will Taylor and Sydney be able to make it back home safe and sound?
The illustrations by Deborah Hocking are gorgeous and colorful. I loved the mapped end pages. I definitely can't wait to read the next book, Sydney and Taylor Take A Flying Leap which came out in August 2021.