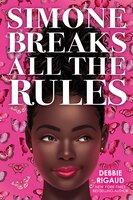 Perfect for fans of You Should See Me in a Crown and To All the Boys I've Loved Before, this hilarious and heartfelt Own Voices rom-com from bestselling author Debbie Rigaud is pure Black girl joy.
Simone Thibodeaux is about to switch things up.
Check her life: It's sealed in a boy-proof container. Her Haitian immigrant parents send Simone to an all-girls high school and enforce strict no-dating rules. As for prom? Simone is allowed to go on one condition: Her parents will select her date (a boy from a nice, Haitian immigrant family, obviously).
Simone is desperate to avoid the setup — especially since she has a serious crush on another boy. It's time to take action. Simone and her fellow late-bloomer friends make a senior year bucket list of all the wild things they haven't done yet. Like: going out dancing, skipping class (what), and oh yeah — deciding their own prom destinies.
But as the list takes on a life of its own, things get much messier than Simone expected. Can she figure out which rules are worth breaking and which might save her from heartbreak?
(Release Date June 2021)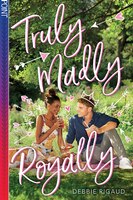 "The Princess Diaries meets Meghan and Harry in this swoony rom-com!" — In Touch Magazine
Zora Emerson is not here to play. She's enrolled in a prestigious summer program and is ready to use what she's learning to change the world (or at least her corner of New Jersey, for now). Zora's not expecting to vibe with any of her super-privileged classmates. So she's shocked to find she's got chemistry with Owen Whittelsey, who is charming, funny, undeniably cute…and turns out to literally be a prince. As in, his parents are the king and queen of a small European country. What? Suddenly, Zora"s summer is looking a lot more complicated — especially when Owen asks her to be his date at his older brother's wedding. Can her feelings for Owen, not to mention her sense of self, survive the royal chaos? Debbie Rigaud brings sparkling humor and insight to this empowering romantic comedy that's all about ruling your own destiny.
(Release Date: July 2019)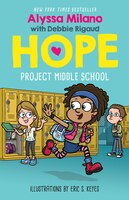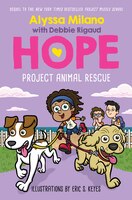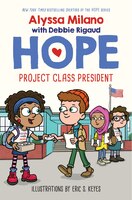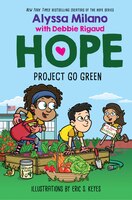 Lifelong actor-advocate Alyssa Milano tells the story of a young activist in the making. It's the first book in an empowering and funny new middle-grade series illustrated by Simpsons illustrator, Eric S. Keyes.
Meet Hope Roberts. She's 11 years old, and she wants to be an astrophysicist. She loves swimming, Galaxy Girl comic books, and her two rescue dogs.
Hope believes it's always a good day to champion a cause, defend an underdog, and save the future. And most of all, she believes in dreaming big. That's why she's enrolled in all of the advanced classes at her new middle school. She's smart and confident in her abilities. But though Hope seems super strong on the outside, there's another side of her, too. She's just a regular girl trying to survive middle school.
This first book starts with the beginning of sixth grade, and Hope's BFF Sam made some new friends over the summer. Hope doesn't know how to handle it. She and Sam have always been inseparable! Then Hope meets her new lab partner, Camila, and they get off on the wrong foot. And even though Camila is great at science, she doesn't want to join the science club. The club is all boys, and she doesn't feel welcome.
When Hope hears that, she's determined to recruit more girls into the science club, including Camila. Hope knows that sometimes changing the world starts small. So now Hope has a mission! Can she turn the science club into a place that's welcoming for everyone — and make some new friends along the way?
Hope's relatability, kindness, empathy, and can-do attitude will inspire a generation of do-gooders. This new series is a response to the very palpable feeling that not only can young people save the world — they will!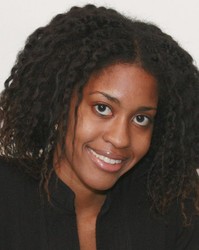 About the Author:
Debbie Rigaud is the coauthor of Alyssa Milano's New York Times bestselling Hope series and the author of Truly Madly Royally and Simone Breaks All The Rules. Debbie grew up in East Orange, New Jersey, and started her career writing for entertainment and teen magazines. She now lives with her husband and children in Columbus, Ohio. Find out more at debbierigaud.com.

I am excited to read Debbie's newest book, Simone Breaks all The Rules when it comes out as it sounds really good. Also the I really want to read the Hope Series as that sounds like they might be fun reads. As I am prepping this post I am looking for my copy of Truly Madly Royally. I think it's time to do a reread of it.