Judy Blume meets RuPaul's Drag Race in this funny, feel-good debut novel about a queer teen who navigates questions of identity and self-acceptance while discovering the magical world of drag.
Perpetually awkward Nima Kumara-Clark is bored with her insular community of Bridgeton, in love with her straight girlfriend, and trying to move past her mother's unexpected departure. After a bewildering encounter at a local festival, Nima finds herself suddenly immersed in the drag scene on the other side of town.
Macho drag kings, magical queens, new love interests, and surprising allies propel Nima both painfully and hilariously closer to a self she never knew she could be—one that can confidently express and accept love. But she'll have to learn to accept lost love to get there.
From debut author Tanya Boteju comes a poignant, laugh-out-loud tale of acceptance, self-expression, and the colorful worlds that await when we're brave enough to look.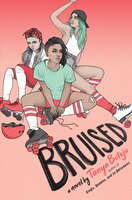 Whip It meets We Are Okay in this vibrant coming-of-age story about a teen girl navigating first love, identity, and grief as she immerses herself in the colorful, brutal, beautiful world of roller derby—from the acclaimed author of Kings, Queens, and In-Betweens.
To Daya Wijesinghe, a bruise is a mixture of comfort and control. Since her parents died in an accident she survived, bruises have become a way to keep her pain on the surface of her skin so she doesn't need to deal with the ache deep in her heart.
So when chance and circumstances bring her to a roller derby bout, Daya is hooked. Yes, the rules are confusing and the sport seems to require the kind of teamwork and human interaction Daya generally avoids. But the opportunities to bruise are countless, and Daya realizes that if she's going to keep her emotional pain at bay, she'll need all the opportunities she can get.
The deeper Daya immerses herself into the world of roller derby, though, the more she realizes it's not the simple physical pain-fest she was hoping for. Her rough-and-tumble teammates and their fans push her limits in ways she never imagined, bringing Daya to big truths about love, loss, strength, and healing.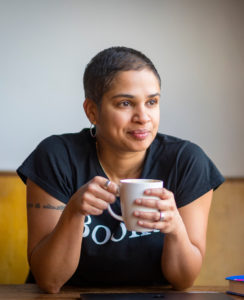 About The Author:
Tanya Boteju is an English teacher and writer living on unceded territories of the Musqueam, Squamish, and Tsleil-Waututh First Nations (Vancouver, Canada). She believes feminism, diversity, committed educators, sassy students, and hot mugs of tea will save the day. She is also grateful for her patient wife who builds her many bookshelves! Tanya may have been a drag king in her well-spent youth and knows that the queer community is full of magic and wonder. With her books, she hopes she's brought some of that magic to those who need it most.