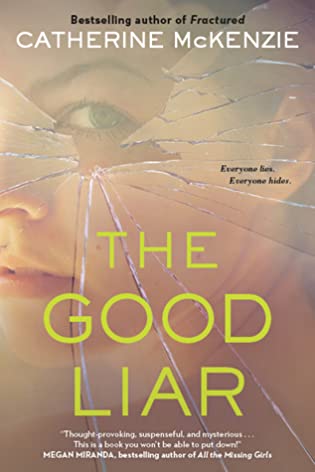 The Good Liar
by Catherine McKenzie
Published by
Simon & Schuster Canada on April 3, 2018
Pages:
360
Goodreads
After a horrible tragedy, three women are forced to face the reality of their lives. One has secrets she desperately wants to remain hidden, one strangely finds purpose in grief, and one mysteriously tries to escape her past.
A photographer captured Cecily Grayson fleeing in the wake of the explosion that killed her husband. The photo quickly brings Cecily unwanted attention as the "poster child" of the tragedy.
Franny Maycombe lost her birth mother in the blast. She and Cecily partner to help others deal with the losses they experienced that day. But the alliance rapidly becomes an uneasy one.
Meanwhile, in Montreal, a third woman attempts to reinvent herself. Will she succeed? Or will her past haunt her forever?
THE GOOD LIAR is a brilliant take on marriages, the secrets families hide—and how longing and guilt can drive us to commit the most unexpected acts.
This is Catherine's seventh book and another thriller which I am really loving. I love a good book that is really hard to put down and that has you on the edge of your seat, leaving you to know no clue as to what is going to happen. Just when you think you know you really don't. You are not only dealing with one character but three so there is plenty of moments that leave you wondering what will happen. I can pretty much devour Catherine's books in either one or two sittings. I love that she can wrap everything up in one book.
As I mentioned there are three characters Franny, Kate, and Cecily. Cecily has lost her husband in an explosion to which she was a witness. Unbeknownst to Cecily her photo was taken and months later its resurfaced bringing her much-unwanted attention. Cecily has a secret that she is trying to keep hidden.
I felt so bad for Franny because she lost her birth mother to that explosion. They had only just reconnected two months prior.
Our third character is Kate. Kate is now living in Montreal and trying to build a new life leaving behind Chicago. As the story unfolds you soon realize why Kate had to leave.
Even though these are three separate characters the explosion ties them all together. As you get to know these characters you can't help but wonder who is lying and who is telling the truth. They all have secrets and lies that no one knows about but we all know secrets and lies can't be secrets and lies for long because it just takes the right person to uncover them.
The book is told from their points of view over a course of several weeks but the explosion happened a year prior. The chapters go from past to present and as they are told you begin to see how each of them is connected. I love that the book takes place both in Chicago and Montreal.