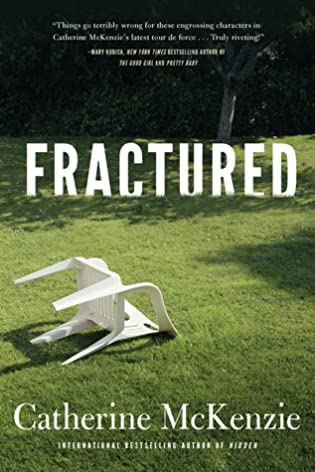 Fractured
by Catherine McKenzie
Published by
Lake Union on October 4, 2016
Pages:
360
Goodreads
Julie Prentice and her family move across the country to the idyllic Mount Adams district of Cincinnati, hoping to evade the stalker who's been terrorizing them ever since the publication of her bestselling novel, The Murder Game. Since Julie doesn't know anyone in her new town, when she meets her neighbor John Dunbar, their instant connection brings measured hope for a new beginning. But she never imagines that a simple, benign conversation with him could set her life spinning so far off course.
After a series of misunderstandings, Julie and her family become the target of increasingly unsettling harassment. Has Julie's stalker found her, or are her neighbors out to get her, too? As tension in the neighborhood rises, new friends turn into enemies, and the results are deadly.
As much as I love a light kind of read I have to admit that I am loving how Catherine is starting to write some sitting on the edge of your seat psychological thrillers. These are books I have a hard time putting down for any amount of time.
I have to admit that I never read the synopsis of any of Catherine's books because they are always an automatic buy and read for me. I am never disappointed in any of her books. They are always a 5+ star read for me.
For some reason, after I read Fractured I said that I wanted to read The Murder Game and for some reason, I have yet to do so but I do have it on my Kindle app. I am thinking that I definitely need to read this asap. In case you didn't know The Murder Game by Julie Apple is actually a book that Catherine has written.
Although I am sure you can read these books as stand-alones you might enjoy it more reading The Murder Game first and then reading Fractured and things will make a little more sense and you will know who the characters are. So without going into too much I am going to try and censor my review.
Our main character is Julie and she is a world-famous author. She has uprooted herself and her family to get away from a stalker. She literally moves half away across the country in hopes that they can lead a peaceful and quiet life. She hopes that she has left the danger and drama behind her. Yes, that is easier said than down, Julie is always looking over her shoulder. She doesn't feel comfortable and is always wondering what everyone is thinking and looking at. Julie is always living in fear.
Despite the constant fear Julie likes where she is because she can be anonymous. No one knows who she is and she can live a somewhat normal life doing normal things. Well, that's until she meets her neighbor Josh. He knows exactly who she is as he is a huge fan and has read her books over and over again. He also knows everything about Julie thanks to the internet and being an IT guy. He wants the two families to be friends but not in a creepy stalker kind of way.
Will John turn out to be the new creepy stalker or just a creepy weird fan?
Fractured is told from the points of view of Julie and John. The timeline of the book takes place within a year and up to the present. The present revolves around a trial and court. Things start out basically sweet and innocent but things turn rather quickly. It feels like everyone is out to get Julie in her mind. Is that the truth or has Julie lived in fear for so long she doesn't know the difference?