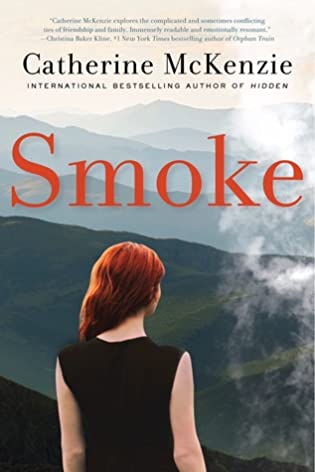 Smoke
by Catherine McKenzie
Published by
Lake Union on October 20, 2015
Pages:
340
Goodreads
An Amazon Best Book of the YearA Goodreads Best Book of the Month
From the internationally bestselling author Catherine McKenzie comes an evocative tale of two women navigating the secrets and lies at the heart of a wildfire threatening their town.
After a decadelong career combating wildfires, Elizabeth has traded in her former life for a quieter one with her husband. Now she works as the local arson investigator in a beautiful, quaint town in the Rockies. But that tranquil life vanishes when she and her husband agree to divorce and a fire in nearby Cooper Basin begins to spread rapidly. For Elizabeth, containing a raging wildfire is easier than accepting that her marriage has failed.
For Elizabeth's ex-friend Mindy, who feels disconnected from her husband and teenage children, the fire represents a chance to find a new purpose: helping a man who has lost his home to the blaze. But her faith is shattered by a shocking accusation.
As the encroaching inferno threatens the town's residents, Elizabeth and Mindy must discover what will be lost in the fire, and what will be saved.
Not quite sure what happened to my original review of Catherine McKenzie's fifth book because I am pretty sure I read this on the train back from NYC to Montreal. I picked this book up at Book Expo where I stood in line to see Catherine and get it signed. It was also weird because GoodReads said I never read it but then again I sometimes find that GoodReads can be rather wonky with my books.
Anyways I decided that I needed to refresh my memory so I decided to do a quick reread of it.
Smoke is Catherine's fifth book and I have to tell you right off the bat that this one is very different from her previous books. All of her previous books are light whereas this one is a little sad and somber. A whole different atmosphere and feeling.
Our main character is Elizabeth and she is married to Ben. One morning she walks up to the smell of smoke and not quite sure where it's coming from and goes to look and realizes that a wildfire has started not too far away and quickly rushes to wake Ben up so that they can get ready to evacuate because having been a former forest firefighter she knows how quickly it can go from small to dangerous. She knows they have to get moving fast.
They soon begin to wonder where do they have to go and are they leaving together because the night before they were talking about divorcing. Things used to be so simple for them but as time goes on things became complicated. Now add the forest fire to the mix. In the beginning, Elizabeth loved being a firefighter and it was her passion but as they began to discuss having a family, it was best that she gave it all up and stay home while Ben was a high school teacher. They soon realized that having a family was not in the cards and pretty soon resentment started to develop.
Elizabeth no longer is a firefighter but she is a local arson investigator. So as she is driving into town she can't help but wonder about the who, what, why's of this forest fire. As she sets to start looking into the fire fingers are quickly pointed in all directions and one of them lands on her best friend, Mindy. Mindy knows her son snuck out of the house and isn't quite sure if he is somehow involved or at least knows who is responsible.
As the book progresses you see that there is so much more to Elizabeth and Mindy's relationship as well as Elizabeth and Ben's.
The book is told from the points of view of Elizabeth and Mindy with a few news articles/bulletins thrown in here and there that concerned the fire and its written over the course of six days.
I definitely did enjoy rereading this and I enjoyed the mystery element of it.