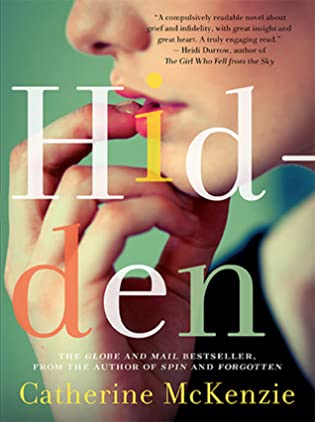 Hidden
by Catherine McKenzie
Published by
New Harvest on April 7, 2015
Pages:
304
Goodreads
When a married man suffers a sudden fatal accident, two women are shattered — his wife and his mistress — and past secrets, desires, and regrets are brought to light.
While walking home from work one evening, Jeff Manning is struck by a car and killed. Two women fall to pieces at the news: his wife, Claire, and his co-worker Tish. Reeling from her loss, Claire must comfort her grieving son as well as contend with funeral arrangements, well-meaning family members, and the arrival of Jeff's estranged brother, who was her ex-boyfriend. Tish volunteers to attend the funeral on her company's behalf, but only she knows the true risk of inserting herself into the wreckage of Jeff's life.
Told through the three voices of Jeff, Tish, and Claire, Hidden explores the complexity of relationships, the repercussions of our personal choices, and the responsibilities we have to the ones we love.
This is Catherine's fifth book and I should tell you that all her books are stand-alone.
When I read the synopsis I knew that this would be an emotional read and it was. I didn't zip through the book like I normally do because I wanted to take it all in and at times I really wanted to just read it because there was a lot of action and suspense because you never knew when secrets would be revealed.
Everyone dies but what if someone you loved died that had a secret? What if this secret was about to rock your world and change everything? We all have secrets, small and big.
Hidden is told in three points of view: Jeff (a married man who has been living a double life), Claire (Jeff's wife who has no clue about her husband's double life), and Tish (the secret love). I am always worried when there are multiple points of view told in the book but Catherine did a fantastic job of separating them so you knew who was who.
I actually enjoyed this because you got to discover more about the characters than you might not normally know about them in a normal story.
I think one of the elements that I really enjoyed was the mystery in the book because you had to keep asking yourself did Jeff really cheat on Claire with Tish? At times I have to say yea I think he did and then other times I was shaking my head no knowing if he did or didn't. Will we ever find out if he did?
Jeff and Tish work for the same company but in different locations, Springfield (yes there are two). Their relationship starts out work-related and then slowly builds into something. You can see the hesitation in both because they are both married with kids. No one knows about their relationship as they have kept it hidden.
I was surprised because I thought that I would end up hating Jeff and Tish but I actually didn't which is surprising. I know my heart was breaking for what Claire was going through with the loss of her husband and dealing with that as well as their son who is struggling with this as well. I actually was happy when Claire was putting two and two together wondering if her husband did cheat. It takes a lot of courage to admit that there might have been something.
I loved that no one was perfect in the book. Everyone had flaws and secrets.