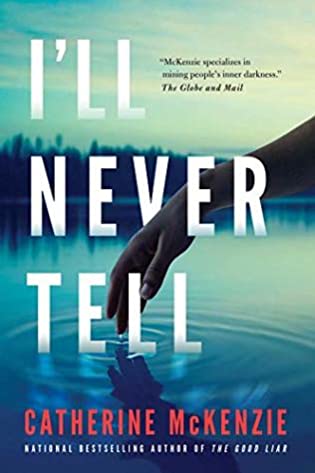 I'll Never Tell
by Catherine McKenzie
Published by
Simon & Schuster Canada on June 4, 2019
Pages:
384
Goodreads
What happened to Amanda Holmes?
Twenty years ago, she was found bludgeoned in a rowboat at the MacAllister family's Camp Macaw. No one was ever charged with the crime.
Now, after their parents' sudden deaths, the MacAllister siblings return to camp to read the will and decide what to do with the prime real estate the camp occupies. Ryan needs to sell. Margaux hasn't made up her mind. Mary believes in leaving well enough alone. Kate and Liddie—the twins—have opposing views. And Sean Booth, the groundskeeper, just hopes he still has a home when all is said and done.
But it's more complicated than a simple vote. The will stipulates that until they unravel the mystery of what happened to Amanda, they can't settle the estate. Any one of them could have done it, and each one is holding a piece of the puzzle. Will they work together to finally discover the truth, or will their secrets finally tear the family apart?
This is Catherine's eighth book and it's even better than the last one. I am not going to lie but I love Catherine's books and she is an automatic buy for me hands down.  I don't even have to know what the book is about because to be quite honest they never disappoint. I have not been disappointed yet.
This is another amazing psychological thriller/ mystery that will have you on the edge of your seat. I really tried to take it slow but when you reach that certain book you know there is no turning back and you just have to drop everything to finish the book and I pretty much have been devouring her latest books within a day.
I'll Never Tell flips between the past and the present which works really well because you need that background information to fully understand the storyline. The story is told from the point of view of the family, Sean the groundskeeper and Amanda. Here is where I have to admit that I had to have a little cheat sheet with the names of all the narrators and little notes from the chapters.
The book centers around the McAllister family. Sadly the parents have passed away and the kids Ryan, Margo, Mary, twins Liddie, and Kate are going to the family's Camp Macaw. So many kids have passed through the gates of this summer camp. So many memories. They are there to listen to the reading of their parent's will and figure out what they are going to do about the camp. But it's not as easy as they think it will be because in order to sell the camp they need to figure out what happened to Amanda and who is responsible for her death.
Will they be able to figure out what happened to Amanda and who is behind it? Are they ready to face the truth about family secrets?
Since hurting my back in the summer of 2019 we had decided to forgo our summer vacation of renting a cabin in Lake George which would have been the perfect setting to read this book so instead, I had to imagine I was there with the help of some beach sounds playing in the background.
Sadly I never got to experience going to camp when I was younger our summer vacations were spent taking the train from my little town in New Brunswick to Montreal so we could spend the summer with my grandparents.