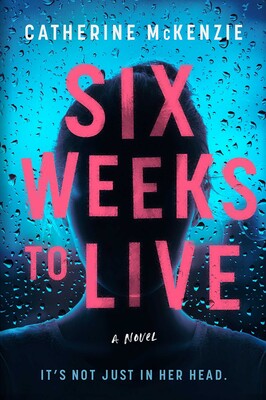 Six Weeks to Live
by Catherine McKenzie
Published by
Simon & Schuster Canada on April 20, 2021
Goodreads
A gripping psychological suspense novel about a woman diagnosed with cancer who sets out to discover if someone poisoned her before her time is up
Jennifer Barnes never expected the shocking news she received at a routine doctor's appointment: she has a terminal brain tumor—and only six weeks left to live.
While stunned by the diagnosis, the forty-eight-year-old mother decides to spend what little time she has left with her family—her adult triplets and twin grandsons—close by her side. But when she realizes she was possibly poisoned a year earlier, she's determined to discover who might have tried to get rid of her before she's gone for good.
Separated from her husband and with a contentious divorce in progress, Jennifer focuses her suspicions on her soon-to-be ex. Meanwhile, her daughters are each processing the news differently. Calm medical student Emily is there for whatever Jennifer needs. Moody scientist Aline, who keeps her mother at arm's length, nonetheless agrees to help with the investigation. Even imprudent Miranda, who has recently had to move back home, is being unusually solicitous.
But with her daughters doubting her campaign against their father, Jennifer can't help but wonder if the poisoning is all in her head—or if there's someone else who wanted her dead.
Firstly, Happy Canadian Book Release day to Six Weeks to Live by Catherine McKenzie. This beautiful book is now available in Canada for you to read. I believe the US release date is May 4th. It seems strange this time around that the book was released in Canada first. I am not complaining because I would have ordered it from any book site that was selling it.
I have to say for once Chapters (Indigo) was working in my favour because I actually got this book before the release date (a week to be precise, which it might not seem unusual to some but for me its a big deal because over the past two years I have always had issues with ordering books online from them).
Its been a few days since I have read the book and I am still trying to process everything that happened. It definitely was a roller coaster ride filled with twists and turns. You didn't know what was going to happen next and just when you thought you had it figured it out bam you were wrong. This was definitely a page-turner that I managed to read in one day. I just couldn't put the book down and I couldn't let the day end without knowing who was behind it all. Many times I was literally on the edge of my seat. I should warn you that in the last 1/4 of the book you need to have a tissue on hand. It had me in tears. This has to be one of my favorite psychological thrillers this year to date.
Six Weeks to Live is told over the course of six weeks in the points of view of our main characters, Jennifer (the mom) and her triplet grown daughters, Aline, Emily and Miranda. Jennifer is separated from her husband Jake because of the affair he has had with an intern that was at the law firm he works for. He wants a divorce so that he can be with her.
The book opens up with Jennifer discovering she has a brain tumour and only has six weeks to live, hence the name of the book. In the complete shock of finding out that she has a terminal brain tumor that nothing can be done at this point because it wasn't caught soon enough and it's only when she is sitting in her car and going through the paperwork, the nurse gave her that she sees that a year ago she had high levels of lead in her blood work. Lead poisoning.
Jennifer begins to focus on the fact that someone possibly poisoned her a year ago and the first suspect on her list of people, well, in reality, it's only Jake because he is the one who has everything to gain from her being gone. She knows that if she drags it out and it goes to court that judges will side with her no matter what because plenty of judges don't like him. Trying to convince her daughters that he is the one behind it proves to be quite the task because with all this evidence per se against Jake you begin to wonder did he really do something, is he capable of doing something?
Slowly as the book progresses you realize that each member of this family has secrets and lies they tell each other. Some of the lies and confessions are shocking and it's literally enough to want to kill for. The only thing is will Jennifer know who is really behind the poisoning before it's too late? Will the real killer get away with murder?
I definitely did not see that ending happening as I was reading the book. I was so blindsided. I still sit and think did I miss the signs throughout the book? Was I too focused on what Jennifer was saying? No, Catherine's writing is just that good and this is one of the reasons I love her books.