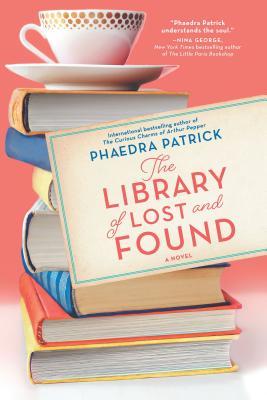 The Library of Lost and Found
by Phaedra Patrick
Published by
Park Row on March 26, 2019
Pages:
336
Goodreads
Librarian Martha Storm has always found it easier to connect with books than people - though not for lack of trying. She keeps careful lists of how to help others in her superhero-themed notebook. And yet, sometimes it feels like she's invisible.
All of that changes when a book of fairy tales arrives on her doorstep. Inside, Martha finds a dedication written to her by her best friend - her grandmother Zelda - who died under mysterious circumstances years earlier. When Martha discovers a clue within the book that her grandmother may still be alive, she becomes determined to discover the truth. As she delves deeper into Zelda's past, she unwittingly reveals a family secret that will change her life forever.
Filled with Phaedra Patrick's signature charm and vivid characters, The Library of Lost and Found is a heartwarming and poignant tale of how one woman must take control of her destiny to write her own happy ending.
When I picked The Library of Lost and Found for my first read of 2021 I had no idea what I was expecting and was pleasantly surprised at how fast I read it. I pretty much devoured this in one sitting because I had a hard time putting it down once I started. Which is a win because that's how you want to start a new year.
This is Phaedra Patrick's third book. Her previous books are The Curious Charms of Arthur Pepper, and Rise & Shine, Benedict Stone. After reading this I definitely want to read her other books. I love stumbling upon new to me authors.
Our main character Martha has given up on having her own life and dreams to take care of the people around her and making sure they are happy from her parents to people in her little town that she knows from the library. As I was reading I couldn't help but feel sad for Martha because she gave up and gives so much that people are willing to take advantage of her without care. So many times I wanted to reach into the book and shake Martha and say speak up.
One day as she is approaching the library where she volunteers, she spots a man leaving a package at the door. The package contains a book that she recognizes as the fairy tales she wrote when she was a young girl. If that wasn't strange enough, the book is signed by her grandmother Zelda. Matha loved her grandmother and finding out she had died was hard for Martha. Zelda sounded like a fun quirky grandmother that we all probably wish we had.
Curiosity gets the best of Martha and she sets out to find out what really happened to Zelda and how her stories appear in a book. This is the point in the book that I loved because Marth was determined to find out what really happened to her grandmother (despite her sister's protest to leave well enough alone) because as it progressed Martha was getting stronger and more confident in herself. She was determined to uncover the truth.
As this journey progresses you can't help but wonder what will happen when Martha finds out the truth about her grandmother, will she handle what happened and the truth?
What I really liked was the little glimpses on things from the past and the more I read the more I disliked her father, He was a controlling man that wanted things his way and had to have control. He was dominating to his wife and his kids. He didn't like the quirkiness of his mother-in-law, wife, and Martha. How Martha could give up her life to take care of him is beyond me.
I definitely want to read more of Phaedra's books moving forward if they are anything like this.