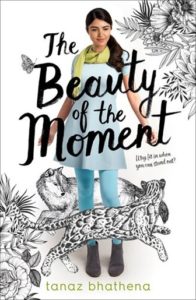 Susan dreams of being an artist. Malcolm wants to move him and his sister out of a bad living situation. Sparks fly when the two teens meet at a fundraiser for Syrian refugees. A Canadian YA romance for fans ofThe Sun is Also a Star.
Susan is the new girl — she's sharp and driven, and strives to meet her parents' expectations of excellence. Malcolm is the bad boy — he started raising hell at age fifteen, after his mom died of cancer, and has had a reputation ever since.
Susan hasn't told anyone, but she wants to be an artist. Malcolm doesn't know what he wants — until he meets her.

Love is messy and families are messier, but in spite of their burdens, Susan and Malcolm fall for each other. The ways they drift apart and come back together are testaments to family, culture, and being true to who you are.


I am thrilled to be a part of this  week long blog tour for The Beauty of the Moment. I have had this book on my wishlist since first hearing about it. This is Tanaz's second book. Her debut novel is A Girl Like That is another one I am excited to finally dig into this month as well. Be sure to check out these other blog stops and be sure to come back and check mine out as well.