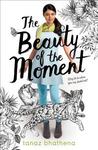 The Beauty of the Moment
by Tanaz Bhathena
Published by
Penguin Teen on February 26, 2019
Pages:
368
Goodreads
Susan dreams of being an artist. Malcolm wants to move him and his sister out of a bad living situation. Sparks fly when the two teens meet at a fundraiser for Syrian refugees. A Canadian YA romance for fans of The Sun is Also a Star.
Susan is the new girl -- she's sharp and driven, and strives to meet her parents' expectations of excellence. Malcolm is the bad boy -- he started raising hell at age fifteen, after his mom died of cancer, and has had a reputation ever since. Susan hasn't told anyone, but she wants to be an artist. Malcolm doesn't know what he wants -- until he meets her. Love is messy and families are messier, but in spite of their burdens, Susan and Malcolm fall for each other. The ways they drift apart and come back together are testaments to family, culture, and being true to who you are.
Before I begin my review I quickly have to thank the lovely people over at Penguin Random House Canada for sending me this book and for allowing me to be a part of the blog tour for it.
Today is my stop on the tour so thank you for stopping by.
Before I get into my review I just have to take a quick moment to gush over the cover of the book and the chapter headers. Not sure if anyone else wanted to do this but I felt like I wanted to color the flowers in as I was reading the book. Granted I didn't actually do that but I really wanted to. This is very fitting considering our main character Susan loves art and wants to study art in university.
Another thing I loved about the book is that it takes place in Mississauga, a city just outside of Toronto. I have been to Mississauga several times over the years because we have family there. So reading about places brings me right back to those places. I love when a book takes place in a city you know about.
This is Tanaz Bhathena's second book. Her first book is called A Girl Like That, which I currently own and hoping that I can get to before I get to meet the author when she comes to Montreal for the MTL YA FEST in May. She also has a fantasy duology that is coming out called Hunted By The Sky. The first book in that duology will be coming out in the Spring of 2020.
Tanaz was born in India, raised in Saudi Arabia and currently lives in Toronto with her family.
Okay enough rambling lets get into my thoughts about the book. I have to say right off the bat that I truly enjoyed reading this and didn't want it to end. Its been a few days since I finished it and I am still thinking about Susan and Malcolm.
The main character is Susan. She has just recently moved to Canada with her mom from Jeddah (Saudia Arabia) where her father is still living. Her parents are very much set in their ways and they have her whole life planned out that she will become a doctor or engineer. But for Susan, she doesn't want that she wants to study art and become an artist.
On the outside it looks like Susan as the typical teenager life but she doesn't. So many things are going on that she is struggling just to fit in. She is the new girl at school, her parents are fighting and it doesn't help that they are in Canada and he is in Jeddah and to add to all that she is expected to pass her driver's course but she just can't grasp it because the instructor is always discouraging her.
Enter cute boy Malcolm. Malcolm is another one who looks like he is your typical teenager but he is also struggling on the inside and trying to deal with what life has given him. He has earned the reputation of bad boy who loves to party. He has just recently ended a relationship and is heart broken and the ex is nothing but drama. Home life is not ideal because he is still struggling with his mother's death and the fact of have quickly his father has moved on to another woman. Whom he isn't the biggest fan of.
The relationship between Susan and Malcolm is a slow sweet one that gradually grows into something more. I loved that it was this way because you got to discover more about them and that it just didn't happen. It was a hate/love relationship that turned into an almost forbidden romance that wasn't all smooth sailing they hit many road bumps but in the end it all worked out for them. I love story lines like this because its real and not all rainbows and unicorns like most books make it out to be.
I wish I was a teenager reading this book because I am sure I would have loved it just as much as my adult self did. The Beauty of the Moment tackled so many issues that made it all blend in so well with the story line such as peer pressure, bullying, alcohol abuse, child abuse, etc things that our teens are going through on a daily bases.
I am excited to continue reading Tanaz's books. She has definitely become an automatic buy for me.