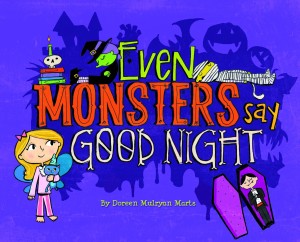 Even Monsters Say Good Night
Format:
eARC
on August 1, 2015
Pages:
32
It's bedtime, and Avery hates bedtime. She is positive that there are monsters under her bed, expecially on Halloween. Where else would all of those monsters sleep? After a thorough discussion with her mom about the monster situation, Avery finally goes to her room. Does she dare check under the bed? A mix of story text and speech bubbles blend seamlessly in this humorous bedtime tale that both parents and children will relate to.
I received this book for free from publisher/pr firm in exchange for an honest review. This does not affect my opinion of the book or the content of my review.
I picked up this cute picture book at #BEA15.
Even Monsters Say Good Night is a super cute picture book. Its about a little girl named Avery and its Halloween night and she hates bed time. She knows there is monsters out there especially on Halloween night.
Avery is your typical little girl questioning all things about bed time and monsters. Her mother reassures Avery that even monsters have a bed time and that they all sleep in various places such as the mummy sleeps in a coffin, werewolves sleep in their dens, and so many more.
The illustrations are appealing and colorful. This book will appeal to kids of all ages. Even Michael liked this super quick and fun read. We had fun flipping through the pages.