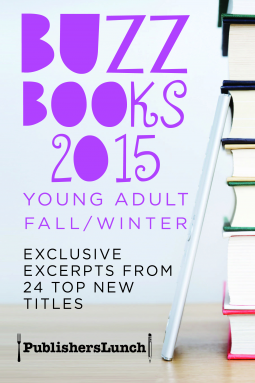 Buzz Books 2015 Young Adult Fall/Winter
Series:
Buzz Books #3
Format:
eBook
on May 2015
This edition of Buzz Books: Young Adult provides substantial pre-publication excerpts from 20 forthcoming young adult and middle grade books. Now everyone can share the same access to the newest YA voices the publishing industry is broadcasting for the fall/winter season. Extensive publishing information, including promotion plans and publicity contacts, are included in this NetGalley version. At the end of most excerpts, you will find a link to the full galley on NetGalley!
Excerpts include new work from established leaders in the field (James Dashner, Jennifer Donnelly, Patrick Ness, and Lauren Oliver), authors best-known for their adult books (Eleanor Herman and Cammie McGovern), and newsmaking titles such as the highly graphic History of Glitter and Blood, Illuminae, and The Thing About Jellyfish.
You will find a full range of YA titles previewed here —dystopian, romance, fantasy, sci-fi, humor, literary and more — and you will find some works for tweens and middle-grade readers. As always, many are sure to make bestseller and "best of" lists.
Four of our titles will be featured at this year's Book Expo America convention on their own YA or Middle Grade Editors Buzz panels: Everything Everything, Nightfall, This Raging Light, and The Thing About Jellyfish. Plus, half of our 20 Buzz Books: Young Adult authors will be in attendance at BEA.
I really can't believe that I am sitting here writing about upcoming fall/winter books when its only been a few weeks of summer.
I am always so happy when Publishers Lunch put out there Buzz Books for the upcoming seasons especially for the young adult books and that they expanded it to include more books. This is the third young adult Buzz Book and I enjoyed reading this and getting the chance to get a sneak peek into the upcoming young adult books that are coming out very soon.
The Buzz Books 2015 Young Adult Fall/Winter edition features 2o exclusive excerpts of new young adult titles. Each title includes the cover of the book, summary and a few chapters. Just enough to suck you into wanting to read the book or books asap.
Just from reading these 20 snippets I have to say that I think this Fall/Winter there is a ton of great young adult books coming out that I am pretty excited to read.
Here is the list of books that were mentioned:
This Raging Light by Estelle Laure
**Not If I See You First by Eric Lindstrom
**A Step Toward Falling by Cammie McGovern
A Story of Glitter and Blood by Hannah Moskowitz
**Dumpling Go Big or Go Home by Julie Murphy
The Rest Of Us Just Live Here by Patrick Ness
**This Is Where It Ends by Marieke Nijkamp
Curiosity House The Shrunken Head by Lauren Oliver & H.C. Chester
Hello, Goodbye and Everything In Between by Jennifer E Smith
The Game of Lives by James Dashner
Here are a few of the titles that peaked my interest:

** This innovative, heartfelt debut novel tells the story of a girl who's literally allergic to the outside world. When a new family moves in next door, she begins a complicated romance that challenges everything she's ever known. The narrative unfolds via vignettes, diary entries, texts, charts, lists, illustrations, and more.
My disease is as rare as it is famous. Basically, I'm allergic to the world. I don't leave my house, have not left my house in seventeen years. The only people I ever see are my mom and my nurse, Carla.
But then one day, a moving truck arrives next door. I look out my window, and I see him. He's tall, lean and wearing all black—black T-shirt, black jeans, black sneakers, and a black knit cap that covers his hair completely. He catches me looking and stares at me. I stare right back. His name is Olly.
Maybe we can't predict the future, but we can predict some things. For example, I am certainly going to fall in love with Olly. It's almost certainly going to be a disaster.
Gabriella Mallory, AP student and perfect-daughter-in-training, stands barefoot on a public toilet for three hours while her school is on lockdown. Someone has planted a bomb and she is hiding. The bomb is defused but the would-be-bomber is still at large. And everyone at Central High School is a suspect. The school starts a top-secret crisis help line and Gabi is invited to join. When she does, she is drawn into a suspenseful game of cat and mouse with the bomber, who has unfinished business. He leaves threatening notes on campus. He makes threatening calls to the help line. And then he begins targeting Gabi directly. Is it because her father is the lead police detective on the case? Is the bomber one of her new friends. Could it be her new boyfriend with his complicated past? As the story unfolds, Gabi knows she is somehow connected to the bomber. Even worse she is part of his plan. Can Gabi reach out and stop him? Or will she be too late?
** A stunning debut about how grief can open the world in magical ways.
After her best friend dies in a drowning accident, Suzy is convinced that the true cause of the tragedy was a rare jellyfish sting. Retreating into a silent world of imagination, she crafts a plan to prove her theory–even if it means traveling the globe, alone. Suzy's achingly heartfelt journey explores life, death, the astonishing wonder of the universe…and the potential for love and hope right next door.

From Jennifer Donnelly, the critically acclaimed New York Times bestselling author of A Northern Light and Revolution, comes a mystery about dark secrets, dirty truths, and the lengths to which people will go for love and revenge. For fans of Elizabeth George and Libba Bray, These Shallow Graves is the story of how much a young woman is willing to risk and lose in order to find the truth.
Jo Montfort is beautiful and rich, and soon—like all the girls in her class—she'll graduate from finishing school and be married off to a wealthy bachelor. Which is the last thing she wants. Jo dreams of becoming a writer—a newspaper reporter like the trailblazing Nellie Bly.
Wild aspirations aside, Jo's life seems perfect until tragedy strikes: her father is found dead. Charles Montfort shot himself while cleaning his pistol. One of New York City's wealthiest men, he owned a newspaper and was a partner in a massive shipping firm, and Jo knows he was far too smart to clean a loaded gun.
The more Jo hears about her father's death, the more something feels wrong. Suicide is the only logical explanation, and of course people have started talking, but Jo's father would never have resorted to that. And then she meets Eddie—a young, smart, infuriatingly handsome reporter at her father's newspaper—and it becomes all too clear how much she stands to lose if she keeps searching for the truth. But now it might be too late to stop.
The past never stays buried forever. Life is dirtier than Jo Montfort could ever have imagined, and this time the truth is the dirtiest part of all.

**  Three royal houses ruling three interplanetary systems are on the brink of collapse, and they must either ally together or tear each other apart in order for their people to survive.
Asa is the youngest daughter of the house of Fane, which has been fighting a devastating food and energy crisis for far too long. She thinks she can save her family's livelihood by posing as her oldest sister in an arranged marriage with Eagle, the heir to the throne of the house of Westlet. The appearance of her mother, a traitor who defected to the house of Galton, adds fuel to the fire, while Asa also tries to save her sister Wren's life . . . possibly from the hands of their own father.
But as Asa and Eagle forge a genuine bond, will secrets from the past and the urgent needs of their people in the present keep them divided?
Author Tessa Elwood's debut series is an epic romance at heart, set against a mine field of political machinations, space adventure, and deep-seeded family loyalties.

For fans of We Were Liars and How I Live Now comes a haunting, sexy, magically realistic debut about a famiy caught between a violent history, a taboo romance, and the mysteries lurking in their own backyard.

Every October Cara and her family become inexplicably and unavoidably accident-prone. Some years it's bad, like the season when her father died, and some years it's just a lot of cuts and scrapes. This accident season–when Cara, her ex-stepbrother, Sam, and her best friend, Bea, are 17–is going to be a bad one. But not for the reasons they think.
Cara is about to learn that not all the scars left by the accident season are physical: There's a long-hidden family secret underneath the bumps and bruises. This is the year Cara will finally fall desperately in love, when she'll start discovering the painful truth about the adults in her life, and when she'll uncover the dark o

A story where edge-of-your-seat horror meets post-apocalyptic thriller, perfect for fans of Lois Lowry and The Mazerunner
On Marin's island, sunrise doesn't come every twenty-four hours—it comes every twenty-eightyears. Now the sun is just a sliver of light on the horizon. The weather is turning cold and the shadows are growing long.
Because sunset triggers the tide to roll out hundreds of miles, the islanders are frantically preparing to sail south, where they will wait out the long Night.
Marin and her twin brother, Kana, help their anxious parents ready the house for departure. Locks must be taken off doors. Furniture must be arranged. Tables must be set. The rituals are puzzling—bizarre, even—but none of the adults in town will discuss why it has to be done this way.
Just as the ships are about to sail, a teenage boy goes missing—the twins' friend Line. Marin and  Kana are the only ones who know the truth about where Line's gone, and the only way to rescue him is by doing it themselves. But Night is falling. Their island is changing.
And it may already be too late.

** Critically acclaimed memoirist Aaron Hartzler, author of Rapture Practice, takes an unflinching look at what happens to a small town when some of its residents commit a terrible crime. This honest, authentic debut novel—inspired by the events in the Steubenville rape case—will resonate with readers who've ever walked that razor-thin line between guilt and innocence that so often gets blurred, one hundred and forty characters at a time.
The party at John Doone's last Saturday night is a bit of a blur. Kate Weston can piece together most of the details: Stacey Stallard handing her shots, Ben Cody taking her keys and getting her home early. . . . But when a picture of Stacey passed out over Deacon Mills's shoulder appears online the next morning, Kate suspects she doesn't have all the details. When Stacey levels charges against four of Kate's classmates, the whole town erupts into controversy. Facts that can't be ignored begin to surface, and every answer Kate finds leads back to the same questions: Who witnessed what happened to Stacey? And what responsibility do they have to speak up about what they saw?
** Imagine a time when the gods turn a blind eye to the agony of men, when the last of the hellions roam the plains, and evil stirs beyond the edges of the map. A time when cities burn, and in their ashes, empires rise.
Alexander, Macedon's sixteen-year-old heir, is on the brink of discovering his fated role in conquering the known world, but finds himself drawn to a newcomer…
Katerina must navigate the dark secrets of court life while keeping hidden her own mission: kill the queen. But she doesn't account for her first love…
Jacob will go to unthinkable lengths to win Katerina, even if it means having to compete withHephaestion, a murderer sheltered by the prince.
And far across the sea, Zofia, a Persian princess and Alexander's unmet betrothed, wants to alter her destiny by seeking the famed and deadly Spirit Eaters.
Weaving fantasy with the shocking details of real history, New York Times bestselling author ofSex with Kings Eleanor Herman reimagines the greatest emperor the world has ever known, Alexander the Great, in the first book of the Blood of Gods and Royals series.

** For fans of Marie Lu and James Dashner comes the first book in an epic new series.
"Brace yourself. You're about to be immersed in a mindscape that you'll never want to leave."
—Marie Lu, New York Times bestselling author of the Legend trilogy
This morning, Kady thought breaking up with Ezra was the hardest thing she'd have to do.
This afternoon, her planet was invaded.
The year is 2575, and two rival megacorporations are at war over a planet that's little more than an ice-covered speck at the edge of the universe. Too bad nobody thought to warn the people living on it. With enemy fire raining down on them, Kady and Ezra—who are barely even talking to each other—are forced to fight their way onto one of the evacuating fleet, with an enemy warship in hot pursuit.
But their problems are just getting started. A deadly plague has broken out and is mutating, with terrifying results; the fleet's AI, which should be protecting them, may actually be their enemy; and nobody in charge will say what's really going on. As Kady hacks into a tangled web of data to find the truth, it's clear only one person can help her bring it all to light: the ex-boyfriend she swore she'd never speak to again.
Told through a fascinating dossier of hacked documents—including emails, schematics, military files, IMs, medical reports, interviews, and more—Illuminae is the first book in a heart-stopping, high-octane trilogy about lives interrupted, the price of truth, and the courage of everyday heroes.
The books that are marked like this ** are titles that I have that I was able to pick them up at BEA and I will be reading and reviewing them on the blog in the next few months. I a
Do any of these books interest you? What would be your first book to read from the list?