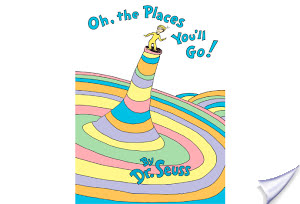 Oh, the Places You'll Go!
by Dr. Seuss
Format:
Audiobook
Published by
RH Childrens Books on September 24th 2013
Pages:
29
Buy on Amazon
Goodreads
Genres:
Business, Careers, Occupations, New Experience, Social Issues, Young Adult
A perennial favorite, Dr. Seuss's wonderfully wise graduation speech is the perfect send-off for children starting out in the world, be they nursery school, high school, or college grads! From soaring to high heights and seeing great sights to being left in a Lurch on a prickle-ly perch, Dr. Seuss addresses life's ups and downs with his trademark humorous verse and illustrations, while encouraging readers to find the success that lies within. In a starred review, Booklist notes:
Oh, The Places You Will Go! is celebrating 25 years and I thought I would share my audio book review with you.
The audio book is read by John Lithgow who you might recall from the tv series 3rd Rock from the Sun a show which I loved watching in the 90s. He was the perfect choice for this book in my opinion. I loved listening to him read this great classic storybook.
I bought the book when Michael graduated kindergarten because he loved Dr Seuss books and to this day I noticed when he feels as though things are tough he takes this book of his shelf and reads it. The book is a great book for kids and actually anyone to read because of the message behind the book. No matter what you do or the obstacles you will encounter there is unlimited potential out there.
John Lithgow did a perfect job reading the story and he was so engaging with the various voices and the music in the background made it an enjoyable read.  I could listen to this over and over again.