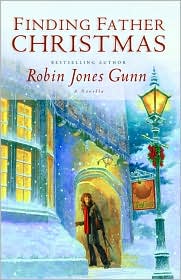 TITLE: Finding Father Christmas
AUTHOR: Robin Jones Gunn
PUB DATE: October 2007
ISBN: 9780446526296
Thanks to Miriam at Hachette for sending me this great book to read before the Christmas holiday. I loved it. The story was beautiful and well written. It almost felt like you were in Carlton Heath.
Miranda is in search of her father. Her mother never told her anything about her father. When her mother died she only had little clues to go on such as a photograph of a young boy sitting on Father Christmas's lap. On the back of the photograph was the name of the photography studio. Having no family on Christmas Eve Miranda decides to fly to London and search for her father. Once she is in Carlton Heath she discovers her world is about to change. She heads to the Tea Cosy to warm up. There she meets a woman named Katharine. Miranda shows the woman the photograph and Katharine remembers seeing it somewhere but can't remember where. She invites Miranda to go to the theatre with her to see the community play called Christmas Carole perhaps someone there will recognize it. Since her mothers death she was never to a theatre and that was her Christmas present to her mother by going. After the play she is invited to the Whitcombes for the party. It is once she is there that she spots the photograph. She is invited to spend the night with the Whitcombes. She decides to stay and in the morning she realizes she can't tell them that she is Sir James daughter. She begs Katharine not to say anything to them but she won't promise. Miranda eventually tells them Christmas day at the dinner table.
copyright 2010, Cindy (Cindy's Love Of Books)
If you are reading this on a blog or website other than Cindy's Love Of Books or via a feedreader, this content has been stolen and used without permission.