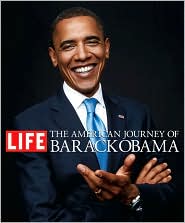 TITLE: The Journey of Barack Obama
AUTHOR: Life Magazine Editors
Pub. Date: October 2008
ISBN-13: 9780316045605
Thank You to Anna from Hachette for sending me this book. I really enjoyed reading it. This is a a beautiful book. The pictures that are in the book are great. There is a mixture of old and new in the book. From baby pictures, to growing up, to the wedding pics and to the family pictures. All of what has made Barack Obama.
It was nice to read and to learn about Barack, his life and family. I learned a few things about him that I didn't know. I never realized how big of a family he had such as 5 half brothers and two half sisters. That his interest in politics was early on in his life and that he values and treasures his roots and where he comes from.
Barack made history when he was chosen as the 44th President Elected in the US and I think this book is a great addition to have on ones shelf. A piece of history.
copyright 2010, Cindy (Cindy's Love Of Books)
If you are reading this on a blog or website other than Cindy's Love Of Books or via a feedreader, this content has been stolen and used without permission.