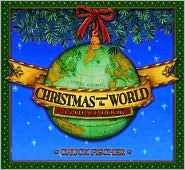 TITLE: Christmas Around The World: A pop up Book
AUTHOR: Chuck Fisher
PUB DATE: Oct 2007
ISBN:9780316117951
Thank You to Valerie for sending me this book for my son. We loved looking through the book. I have to say that this is the first time that my son has wanted to started decorating for Christmas in November. It started shortly after Halloween with wanting to look at the decorations etc. Thanks to all that advertising that was on tv and in the flyers. I have managed to tell him that we don't start to decorate until the first weekend in December. (after my birthday)
This book is so beautifully done. Every page is a different pop up scene from around the world. On each page is the story about how they celebrate Christmas. The traditions etc. Words can't describe the book. You can see alot of workmanship went into the making of this book. It was nice to learn all about Christmas and how its celebrated in other parts of the world.
copyright 2010, Cindy (Cindy's Love Of Books)
If you are reading this on a blog or website other than Cindy's Love Of Books or via a feedreader, this content has been stolen and used without permission.