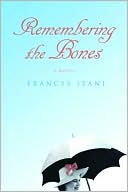 TITLE: Remembering The Bones
AUTHOR: Frances Itani
DATE: December 2007
We are introduced to Georgie Danforth Whitley. She is a Canadian widow. Her Husband passed away 3 years ago. Georgie is getting ready to go to London, England. She has been invited to London for a celebratory luncheon honoring Queen Elizabeth's 80th birthday. She shares the same birthday with the Queen. She is one of 99 commoners who have been invited. We discover that Georgie is fascinated with the Queen. (BTW most Canadians are fascinated with the royal family.) Through all Georgies careful planning she will not make it to the palace this time.
On the way to the local airport Georgie gets distracted and her car slips off the road, through the guard rail and flips twice down the hillside. Georgie is thrown from the car into the brush. There is no visible sign from the road that an accident ever occured.
Georgie is alone and helpless. When she was a little girl she dicovered her grandfathers 1901 Edition of Grays Anatomy. She memorized all the bones in a human body. Which you will discover that after the first chapter all the other chapters in the book are named after bones in the body. Each bone tells a story from her past.
copyright 2010, Cindy (Cindy's Love Of Books)
If you are reading this on a blog or website other than Cindy's Love Of Books or via a feedreader, this content has been stolen and used without permission.