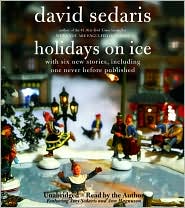 TITLE: Holidays On Ice
AUTHOR: David Sedaris
PUB DATE: October 2008
ISBN: 9781600244872
Thanks to Anna at Hachette for sending me this audio book to listen to and review. David Sedaris is so funny. When I listened to it today I had to turn it off whenever my son came into the room. There is some inappropriate language that was used. Just a heads up if you have kids around.
One minute it was funny and then the next it was a little disturbing. I have to say I truly loved the first story Santaland Diaries the most. SantaLand Diaries is the true story of David's experiences working as an elf in Macy's SantaLand.
There are a total of 12 stories that are read on the cds. The total listening time is about 4 hours. I listened to this while I was cleaning the kitchen up. I admit it there was times when I had to stop cause I was laughing. I have never read any of David's books before but I think I might have to pick one up to read.
copyright 2010, Cindy (Cindy's Love Of Books)
If you are reading this on a blog or website other than Cindy's Love Of Books or via a feedreader, this content has been stolen and used without permission.