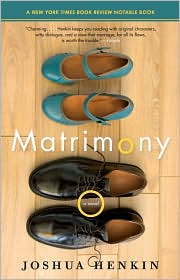 TITLE: Matrimony
AUTHOR: Joshua Henkin
DATE: August 2008
I have to thank Joshua for sending me this book to read and review. I loved the book. Its all about friendship, love, money, ambition, desire and faith.
Matrimony starts us out in Massachuetts in 1986. Julian is going to Graymont College, a small liberal Arts School. In a writting class he meets Carter Heniz. The exact opposite of Julian. Julian is a privileged child and Carter is not. They bond and become best friends.
Carter meets a girl named Pilar. They quickly become a couple. During that time both Julian and Carter would play a game with the freshman yearbook about which one knew the most classmates. Page 47 was dog earred and in the upper right hand corner was Mia Mendelsohn. Mia from Montreal as Julian called her, his crush. Carter speaks to Mia first and tells Julian of this. By chance one day they both end up washing their clothes at the same time. They took and go out. After that they are inseperable.
In their senior year of college Julian, Mia, Carter and Pilar, the only couples still dating since freshman year, all move in together. Mia gets a call from her father saying that Mia's mother has breast cancer. Gradually the Mia's mother is getting worse. Mia wants to leave school but her parents tell her to stay. Realizing her mother is dying Mia proposes to Julian. She wants to get married before her mother dies.
Mia and Julian get married and move to Michigan. Mia is studing psychology and Julian is teaching at the university and working on his novel. Carter and Pilar are in California. Julian flies out to Carter's graduation. Carter is graduating Law School and is thinking of taking the bar exams. Carter and Pilar are separated, he tells Julian.
Secrets are revealed to Julian that he had no idea about. Secrets that changed the lives of Carter, Julian and Mia.
copyright 2010, Cindy (Cindy's Love Of Books)
If you are reading this on a blog or website other than Cindy's Love Of Books or via a feedreader, this content has been stolen and used without permission.