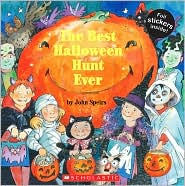 TITLE: The Best Halloween Hunt Ever (with Stickers)
AUTHOR: John Speirs
DATE: August 2008
This is a cute Halloween book for kids. You have to read the rebus and look for the various hidden Halloween treats, pumpkins and the spooky creatures that are hidden in the pictures.
You start out at school, then its off into the city, on the way to the country, all the way to Grandmas house, off to her garden, then back in the car off to the school, the haunted house and then to the parade.
This is a great book for finding items hidden in the pages.
copyright 2010, Cindy (Cindy's Love Of Books)
If you are reading this on a blog or website other than Cindy's Love Of Books or via a feedreader, this content has been stolen and used without permission.